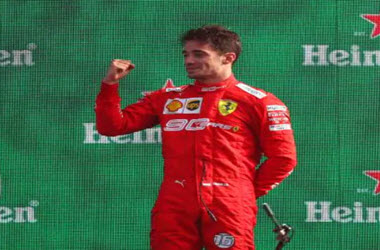 Sebastian Vettel may feel he is Ferrari's top driver, but it is quickly becoming apparent that is Charles Leclerc is becoming the shining star after winning in Belgium, but with his win at Monza, he is cemented in the heart of Ferrari fans the world over.
The wait for Ferrari was nine years to see it winning at its home race, but that came to an end on Sunday. However, it was not their top driver Vettel but came as a result of Charles Leclerc who is quickly becoming one of the top drivers in F1. He is not only younger and less experienced than the senior Vettel but is only driving in his second Formula One season.
Sunday's win was  Leclerc's second of the season, and more importantly, his second in a row. Considering the difficulties that Ferrari has had in recent years, these could not have come at a better time as Vettel continues to struggle and fail to achieve results. Commenting on his recent victories, Leclerc said,
"It feels good. It's not been an easy start to the season, I've done a few mistakes. I think I've grown a lot since the beginning of the season. I understood the critics of last year obviously me being too young because second year in Formula One and already in Ferrari it was early for sure. I can only thank Ferrari for believing in me. I'm very happy to have this kind of results, it shows that I was maybe more ready than what some people thought."
When you consider Vettel has not won a race since Belgium in 2018 and only took been on pole once this season, his value to Ferrari is waning. While he has managed to make it to the podium in six races this season, he has only won five races in the last two seasons. In comparison to other top drivers like Leis Hamilton have won 19 races in that same time period, putting Vettel in a position that could see him drop to the number 2 position with Ferrari.
Can we just rewind to Sunday again??! #ItalianGP 🇮🇹 #F1 pic.twitter.com/YZCdBq0msG

— Formula 1 (@F1) September 9, 2019
At both Belgium Grand Prix and at Italy, Leclerc was able to keep Mercedes from taking the lead, and that saw him jump thirteen points ahead of Vettel with 182 and fourth in the drivers' standings. Vettel's dismal 13th place finish in front of Ferrari's home town crowd didn't help his case after he made multiple mistakes after starting fourth on the grid.
Vettel's biggest was while challenging Bottas in the sixth lap only to lose control going off course and through the Ascari chicane. Adding to his disastrous performance last Sunday was his re-entering the track unsafely causing Canadian Lance Stroll to spin out. That resulted in Vettel being slapped with a 10 second stop and go penalty, which was his ninth in the last twelve months and three more will see Vettel being banned from a future race. Commenting on the incident, Vettel said,
"Coming back I knew that there would be a gap but I struggled a little bit to get out. I was stuck on the grass, so I lost a bit of momentum and it took a bit longer, so certainly not ideal but I couldn't see anything looking to the left. When I spun I saw there was quite a bit of a gap but obviously then you don't start counting. I knew there would be cars coming but I thought I would be much quicker rejoining."
Leclerc, who makes €3.5 million is on a one year contract, and with Vettel's contract expiring at the end of this season, the question will be whether Ferrari deems his €45 million salary worth its investment. There is little question that Leclerc, whether he remains as expected with Ferrari or moves to another team, will see his salary jump substantially.
While Sebastian Vettel hasn't won in 22 races, team management, namely, Toto Wolf, is still confident the German will return to winning races. Speaking on the four time world champion, and his hopes for the future, Wolf said,
"Don't write him off, because he's a four-time world champion. The difference between the great ones and the good ones is that the great ones are able to get up again and I have no doubt that he can do that. He had a spell of bad races and now it will be about the ability to get himself back to where he deserves to be. Today for sure is a bad day for him."
Charles Leclerc by the Numbers:
– Drives the No. 16 car for Ferrari
– Born on October 16th, 1997 (21 Years Old)
– Resides in Monte Carlo, Monaco
– Has driven 233 races in 13 Formula One seasons
– Has earned four pole positions in qualifying and 7 career podium finishes
– Has won two races in 2019 and driven over 1800 laps
– Has yet to be disqualified in a Formula 1 race