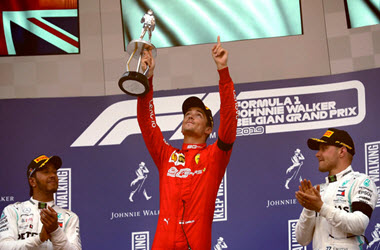 On a day when hearts were heavy at the loss of Anthoine Hubert, Charles Leclerc was able to celebrate after successfully holding off Lewis Hamilton to earn his first Formula One victory and one Team Ferrari was in desperate need of.
While Ferrari's Sebastian Vettel continues to have a tough season, his teammate Charles Leclerc is quickly coming out as the team's No. 1 driver. At 21, it is anticipated that Leclerc will be a top driver in the sport and he clearly outdrove Vettel, who started behind Leclerc on the grid.
The elder and more experienced Vettel has gone twenty-one races without winning a race whereas Leclerc, who has only thirteen races under his belt has won one, had a podium finish at Bahrain in March and has been consistent in qualifying earning three pole positions. Speaking on Leclerc, five-time driver's champion, Lewis Hamilton said,
"His results speak for themselves. It's not easy for any driver to jump into a top team like Ferrari against a four-time world champion, with much more experienced, and then to continuously out-perform, out-qualify and out-drive him."
Eloquent stuff from race winner @Charles_Leclerc as he sums up an emotional day at Spa#F1 #BelgianGP 🇧🇪 pic.twitter.com/4D8SvHvZRM

— Formula 1 (@F1) September 1, 2019
This win at Belgium was Ferrari's first since last October when Kimi Raikkonen won at the United States GP last October. Leclerc is currently fifth in the points race and would have been higher had he not suffered an engine failure at Bahrain. Commenting on his abilities and future races, Leclerc stated,
"If I feel like I'm ready to be challenging for a world title, in the end I have the car and the team for it. We obviously need to work because we are struggling a bit compared to Mercedes, but on my side, yes I have got a lot to learn but I feel ready. Otherwise I shouldn't be in the seat I am in today."
Ferrari was only slightly faster than Mercedes on Sunday, but it was enough to give Leclerc a .981 second lead over Lewis Hamilton, who is looking to win his 6th Drivers Championship this season. Speaking post-race on the final few laps, Hamilton said,
"I was trying to keep up with him but he was very strong. Ultimately he did a superb job. I look forward to seeing his growth and racing against him."
After the race, an emotional Leclerc dedicated his first win in Formula One of Anthoine Hubert, an F2 driver who died during a horrific crash on Saturday and who had raced with Leclerc during their carting days in France. Commenting, Leclerc stated,
"There was him, Esteban (Ocon), Pierre (Gasly) and myself. We were four kids dreaming of Formula One, we've grown up together in karting for many years. To lose him yesterday was a big shock for me," Leclerc said. "It was a very sad day and difficult to enjoy it fully today."
A week-end I'll forever remember for 2 different reasons.
1st Formula 1 Win dedicated to you my friend @AnthoineH. #Foreverinourhearts pic.twitter.com/uM027VpTmv

— Charles Leclerc (@Charles_Leclerc) September 1, 2019
Hamilton was able to increase his points lead with a second place finish while teammate Valtteri Bottas added 65 to his by finishing third. The Formula One season now moves on to Monza, Italy and for punters wishing to hedge their bets on Leclerc, registering with one of betting.ca's premier sportsbooks such as 888Sport will see the availability of lucrative sign up bonuses. Follow Formula One at betting.ca and never miss the latest F1 updates.