Charles Jourdain Returns To The Octagon At UFC Fight Night 228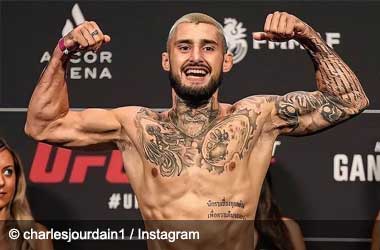 Summary
Charles Jourdain returns to the UFC Octagon on Sep 23
Jourdain is coming of a big win over Kron Gracie
This card will be headlined by Fiziev vs. Gamrot
Canadian MMA fans will tune into the Fight Night card on Sep 23 as top Canadian MMA fighter Charles Jourdain will return to the Octagon for a fight in the featherweight division. This Fight Night card will be headlined by a featherweight fight between Rafael Fiziev vs. Mateusz Gamrot.
Charles Jourdain Fights Richard Ramos On Sep 23
The 27 year old Jourdain is a top prospect in the featherweight division and one of the big names in Canada's MMA scene. His last fight was at UFC 288 when he got a lot of attention as he took on Kron Gracie who was making his return after a long layoff. 
Jourdain ended up beating Kron by decision in what turned out to be a strange and bizarre fight for the fans. This was largely because Kron Gracie refused to engage and made it difficult for Jourdain to entertain the fans.
Jourdain will now take on Ricardo Ramos in the featherweight division and will be very confident that he can come out with a win even though Ramos is a tough opponent. Jourdain has a 14-6-1 record while Ramos has a 16-4 record. Ramos is 28 years old and is the same height as Jourdain at 1.75m.
However, Ramos does have a huge reach advantage as he is at 182.9 cm while Jourdain is at 175.3 cm. Ramos last fought in June 2022 on the Kattar vs. Emmett card and had an impressive first round finish against Danny Chavez.
Charles Jourdain will be looking to win in an impressive manner after his last fight with Gracie and make a push to enter the top 15 ranking.
Fiziev vs. Gamrot – Main Event
The Main Event will be headlined by a 5 round fight in the lightweight division as 6th ranked Rafael Fiziev and 7th ranked Mateusz Gamrot battle it out to enter the top 5 ranking. This fight has the potential to be a fight of the night contender as both fighters have great chins and excellent cardio.
Fiziev is ahead in terms of the striking but Gamrot is ahead in terms of the wrestling. If the fight stays on the feet, it will favour Fiziev but if Gamrot takes it to the ground, he should win. Get the latest UFC betting odds on the main event and Jourdain's fight with our selection of best bookmakers.