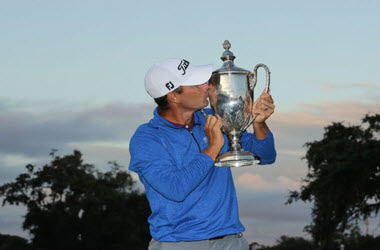 As the final hole at the RSM Classic came to a close, it will be one Charles Howell will remember fondly after sinking a 20 foot put to finish the day 3 under 67 and earning his first win in more than 11 years.
Howell and Patrick Rodgers were tied at the end of round four at 19 under and headed to a playoff to determine the winner, but it was Charles Howell who came out on top. Both Howell and Rogers hit par on the first two holes, on the second extra hole, it was Howell who bagged a birdie to earn the win and a $1,152,000 payday.
After watching his 22 foot put drop in the hole, Howell buried his hands in his face, dropped to his knees and then hugged his children Chase and Ansley and wife Heather. Neither of his children were born when Howell last won a PGA Tour event, his last coming in 2007.
The win earned Howell a spot in the Augusta, Georgia Masters, which is held in Howell's hometown. It will be his first time playing the Masters since 2012. Commenting on win and trip to the Masters, Howell said,
"That was the first thing that popped into my head. Obviously, it means a lot to me being from Augusta, but it means a lot to every player, right? Every golfer in the world knows what the Masters is, so I'm nothing special on that. But that tournament, that atmosphere, just everything … it's tough at home to sit back and watch that on television."
PGA
The second extra hole was the clincher for Howell after Rogers missed his 21 foot put to give Howell the chance for the win. With perfect execution, Howells put dropped in the hole and brought an end to an epic comeback, one that saw him double bogey the first two holes of the final round and gave up the lead he had held onto during the first three rounds of play.
Commenting on the start of the day, Howell said,
"The way I started today, I just honestly thought I shot myself in the foot again. I thought that was pretty much over. I had seen this movie before."
Howell managed to comeback and ended the day 3 under 67 after scoring birdies on the 15th, 16th and 17th holes. That put him tied with Patrick at 19 under. Howell would have won in regulation play had his 22 foot put not turned away at the last moment on the final hole.
Rogers ended the weekend tied for first, but the playoff round saw him drop to second. It was his third, second place finish in four years and one he fought as hard as he could to win. His efforts earned him $691,200, commenting Rogers said,
"I didn't really back down. I stayed aggressive, and I made birdies all the way to the finish. It's a testament to how well Charles played."
The PGA Tour now heads to South Oakleigh, Australia for the ISPS Handa Melbourne World Cup of Golf before returning to the U.S where Tiger Woods and Phil Mickelson will go head to head to battle for a $9 million prize pool. Punters wanting action on this and other PGA Tour events will find our recommended golf sports betting site, bet365 offering up to $200 in signup bonuses to newly registered members. Signup today and you will qualify for a wide range of special promotions.