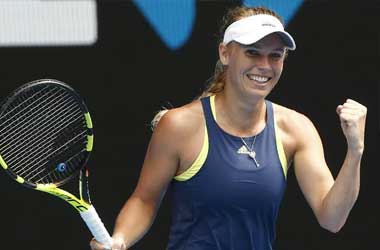 Action at the Australian Open heated up today as Caroline Wozniacki continued her efforts towards getting to the finals with her win against Magdalena Rybarikova. Wozniacki won the two of the three matches scoring 6-3 and 6-0. This will be her first quarterfinals at the Open since 2012.
Wozniacki, ranked number 2 in the world, played perfectly in the first two sets but found herself behind in the third set 5-1. Wozniacki felt she had little to lose at the point saying she was,
"playing with the house money"
Wozniacki will next face Carla Suarez Navarro, who is ranked 39th in the world, in the quarterfinals. Suarez Navarro succeeded to come from behind in a match against Anett Kontaveit to earn her spot in the quarterfinals. Losing the first set 4-6, she was the second set 6-4 and pulled off the win with an 8-6 third set victory.
Wozniacki had to work hard in the first four games she played against Magdaléna Rybáriková. The fourth round was dominated by Wozniacki, who only gave up 6 points in the 2nd set. The player even went so far as to attempt a tweener between her legs.
Said Wozniacki while watching a replay during her post game interview,
"I think you can tell my confidence is high, I tried a tweener today and it went in. I'm admiring myself there."
Australian Open TV
Other Australian Open News
Marin Cilic, who is ranked 6th, earned a win in his 100th Grand Slam match beating the 10th seeded Pablo Carreno Busta. After four sets, he earned his ticket to the quarterfinals. In a postgame interview he stated,
"It was a big battle. I was really relieved I played such a good tiebreaker at the end"
Unaware of the milestone he had reached he mentioned he was not aware of this stating,
"but it's beautiful to hear. I had the 300th win of my career at the U.S. Open in 2014, so this is also beautiful one. I hope I'm going to continue and gather three more here."
Cilic will next face either Diego Schwartzman or the number one seeded Rafael Nadal and Diego Schwartzman in the quarterfinals.
For the number 2 seeded Wozniacki, she could regain the number one rank if she is successful in quarterfinal play and makes it to the semis. Having never won a Grand Slam event, she lost in two Grand Slam finals, once in 2009 to Kim Clijsters and again in 2014 to Serena Williams
Suarez Navarro, for her part, has made it to the quarterfinals five times, but has yet to progress beyond quarterfinal action in a Grand Slam event. In the seven head up matches played against Wozniacki, she has won twice.
Said Suarez Navarro
"Well, we play a lot of times, I know how she plays. I know how tough she is. She's fighting every ball, but at the same time, she can play aggressive. She has a lot of experience on these rounds."
The quarterfinal match between Wozniacki and Suarez Navarro will take place on Monday at 7 pm Australian time.