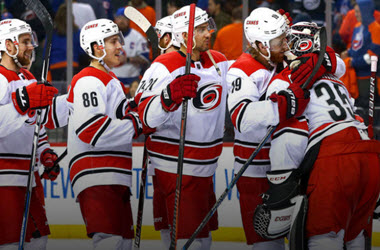 The Carolina Hurricanes are making the best of round two in the playoffs against the New York Islanders after their surprise upset over the Washington Capitals in round one.
Game 2 may not have started in Carolina's favour with the New York Islanders outplaying the Hurricanes, but at the end of the third period, things had changed after Nino Niederreiter, and Warren Foegele both scored within a minute of each other to put Carolina up 2-1, and with it, a 2-0 lead in the series. Commenting on the third period success, Niederreiter said,
"We knew we had to make sure to come out hungry going to the third period."
Petr Mrazek, who exited the game early in the second due to injury stopped nine shots while backup goalie Curtis McElhinney stopped 17. The win was the Hurricanes sixth win in its last seven games, and by playoff standards, that is impressive and one worthy of punters noting when looking to place bets with leading sportsbooks. Commenting on McElhinney success, Warren Foegele said,
"He's been huge. It's not easy coming off the bench there and haven't faced a shot for 30 minutes or so and come up big with some stellar saves."
Sportsnet
The Carolina Hurricanes began the playoffs with a loss to the Capitals but rebounded in Game 2, 3 and 4 before seeing another loss. They needed one more game to take the series, and it looks like the winning marathon is continuing in its series against the New York Islanders. Adding to his comments, Foegele said,
"It's huge taking two on the road here. We just got to focus, regroup and worry about the next game. Last series we were down 2-0 and we knew we had to come back, so they're definitely going to be thinking that right now."
New York's Matthew Barzal scored its only goal, and Robin Lehner stopped 16 shots. This is the first time the New York Islanders have lost two back-to-back home ice advantage playoff games and foor Anders Lee, it was a sting. Commenting, Lee said,
"We were much better than the night before. Now we got to go into their building and do what they did to us."
Carolina also lost Trevor Riemsdyk after he suffered an injury to his shoulder at the beginning of the first period and later saw Saku Maenalanen exiting due to an injury to the upper body injury in the third period.
The Hurricanes trailed by one going into the third period but needed little time to change that to their advantage after Warren Foegele tied the game and less than a minute later Nino Niederreiter put them up by one after redirecting a Teuvo Tersvainen shot.
While New York had some solid opportunities in the third, each was denied by McElhinney, including one by Anthony Beauvillier, another by Josh Bailey during a power play and another when Ryan Pulock shot hit the crossbar with just over a minute left to go. Commenting on the missed opportunities, Bailey said,
"We had some looks. Hit a couple of posts in the third. It could have been a different game, but that's hockey sometimes."
The Hurricanes now head home for Game 3 and 4 and could, if they continue on their current trajectory, take the series in four games.