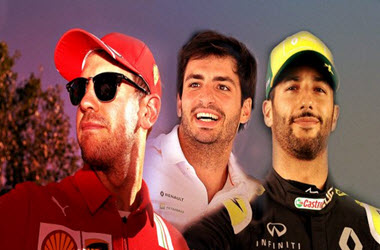 Ferrari has announced it has signed Carlos Sainz Jr to a two year deal, while McLaren has announced the signing of Daniel Ricciardo .As the Formula One season sites on the sidelines while waiting for its season to get the approval to once against start racing, Ferrari announced on Thursday that it has signed Carlos Sainz Jr to a two year deal.
This season has seen the first ten races postponed or outright cancelled as a result of the coronavirus pandemic. However, as things gear up, deals are the talk of the town, and this announcement follows that by McLaren who a day earlier announced the signing of Daniel Ricciardo as Sainz's replacement.
Sainz Jr, who at 25 has seen his stature in F1 improve over the last few seasons, commented on the signing of the deal, stating,
"I am very happy that I will be driving for Ferrari in 2021 and I'm excited about my future with the team. I still have an important year ahead with McLaren Racing and I'm really looking forward to going racing again with them this season."
Sainz Jr. is the son of Carlos Sainz, a two-time world rally champion. He will be replacing Sebastian Vettel, a four-time F1 champion, who has struggled over the last few years. Vettel's problems saw Charles Leclerc taking over the No.1 driver position with the team, and that didn't sit well with the four-time champion, especially considering Leclerc is only in his season with Formula One.
Sky Sports F1
At 22, Leclerc's contract with Ferrari runs through to the end of 2024 and, while he may not be a world champion, Ferrari is banking on the younger driver and his new teammates to help once again bring home championship titles for Ferrari. Ferrari team principal Mattia Binotto, while commenting on the changes stated,
"We've embarked on a new cycle with the aim of getting back to the top in Formula 1. It will be a long journey, not without its difficulties, especially given the current financial and regulatory situation. A driver pairing with the talent and personality of Charles and Carlos, the youngest in the past 50 years of the Scuderia, will be the best possible combination to help us."
There is no doubt that both Leclerc and Sainz Jr. will be looking for wins once the season gets underway and for Sainz Jr., he will be doing all he can to prove he has the skills to compete alongside Leclerc. Last season saw Sainz Jr. being consistent and earning his first F1 career podium finish and in the process, helping McLaren placing fourth in the constructors' championship. Also in the news is Daniel Ricciardo, who has now signed with Team McLaren and will join Lando Norris next season. Speaking on the deal,
"Signing Daniel is another step forward in our longterm plan and will bring an exciting new dimension to the team, alongside Lando," Brown said. "This is good news for our team, partners and of course our fans. I also want to pay tribute to Carlos for the excellent job he has been doing for McLaren in helping our performance recovery plan. He is a real team player and we wish him well for his future."
With Ricciardo's exit from Renault, it has not been announced who will replace the Australian, however speculation will see an increased level of interest among race fans at 888Sport in anticipation of the season getting underway. Last season was a difficult one for the popular driver and his first with the team after deciding in an unexpected move to leave Red Bull. The aussie only managed to make it into the top four once and finished the season in ninth.
However, it did little to damage his reputation after strong performances with Red Bull and that motivated McLaren, who has tried earlier to sign the Australian to sign him while he was available.