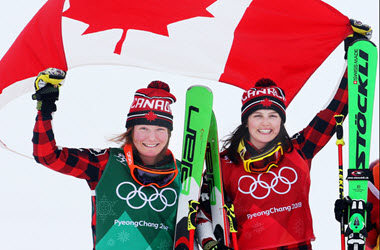 Canadian's Kelsey Serwa and Brittany Phelan had a 1-2 finish in the Women's ski cross in Pyeongchang at the Winter Games yesterday, with Kelowna, B.S's Kelsey Serwa winning gold and Quebec's Brittany Phelan taking silver.
The two medals won brings Canada's medal count to 26 for this year's Winter Games, and matching its best Olympic Winter Games medal count since Vancouver after Kim Boutin and the Men's short track relay team won medals the previous day. Kelsey Serwa's gold was the 10th for Canadian athletes and only four less than the 14 golds that were won in Vancouver.
Switzerland's Fanny Smith from Switzerland took bronze in the race, and Sweden's Sandra Naeslund took fourth. Yesterday's race saw Serwa winning her second Olympic medal with her first being four years ago in Sochi. The silvermedal for Brittany Phelan was her first Olympic medal beating her previous best finish at the World Cup competition in Val Thorens.
Whistler, B.C's Marielle Thompson, who won the gold medal in Sochi failed to make the finals having been eliminated in her ski cross heat at Phoenix Park. Cranbrook B.C's India Sherret also saw her hopes of a medal eliminated after falling in her heat that resulted in her being taken off the hill on a sled.
For Thompson, the build-up to the Winter Games had been a long road after months of rehab followed by months of training after suffering an injury to her knee. Thompsons return lasted only eleven seconds before falling behind the pack and failing to make the first jump after what seemed like she lost her balance and then fell.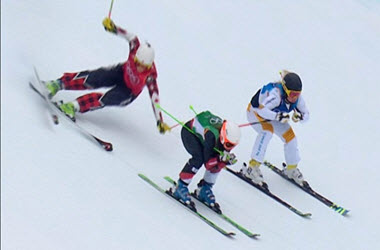 This was Thompson's first return to competitive skiing since injuring her medial collateral ligament and anterior cruciate ligament while training in October. The injury caused Thompson to miss the World Cup and only returned to skiing in January.
Hopes were high for Thompson, who is a three-time World Cup champion, as while in the seeding round she was out front leading the pack of 24 skiers.
Commenting on her performance yesterday, Thompson said,
"I'm quite disappointed with how that race went, especially having won seeding yesterday, but I'm really proud that I was able to race here and to compete for Canada, so that was an accomplishment unto itself."
For Canada and its Canadian women athletes, the Olympic ski cross has seen Canadian women winning a title since its 2010 debut in Vancouver. Serwa won silver in Sochi, Ashleigh McIvor took gold in Vancouver, and now two more medals can be added to that tally with yesterday's 1-2 finish in Pyeongchang.