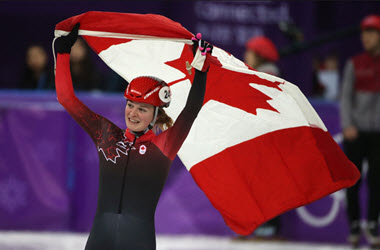 It was a perfect day for Canadian speed skaters Kim Boutin as she increased her medal count at the Winter Games with silver in the women's 1,000 event, and her teammates won bronze in the 5000-metre team relay event in Pyeongchang, South Korea.
Boutin was out in front of the five-person final almost from the beginning, and in the final two laps, she secured her medal victory when two South Korean skaters crashed into each other. That left only three racers fighting to the finish, all with guaranteed medals waiting for them.
Boutin fought hard for first and eventually finished in second place, just behind the gold medal winner, Suzanne Schulting. Italy's Arianna Fontana finished third earning her a bronze medal. Boutin has had an excellent run in Pyeongchang winning bronze in the 500-metre event and 1500 metre race and today won her third in the 1000 metre race.
After winning her third medal of the games, Boutin, who hails from Sherbrooke, Que stated that she just wanted to be consistent in her race events, and it is hard to argue, she has certainly done exactly that.
Men Relay Team Wins Bronze in 5000 metre Short Track Relay
The men's relay team added to Canada's medal count with their third-place finish in the men's 5000-metre relay today.
Team members Samuel Girard, Pascal Dion, Charles Hamelin and Charle Cournoyer skated to the finish line and saw Charles Hamelin winning his fifth Olympic medal, and joining Francois-Louis Tremblay, Phil Edwards and Marc Gagnon as Canada's most decorated Male Olympian athletes.
The four-man team of Girard, Hamelin, Cournoyer and Dion led much of the race but struggled near the end. As they did, it was the Hungarian team that passed the line in first, and the Chinese second, giving Canada the third positon and bronze medal.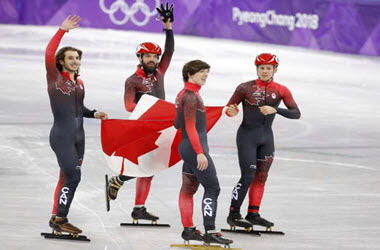 Today's win was the second medal for Samuel Girard, who earlier in the week won gold in the 1000 metre men's event. For Hamelin, today's bronze saw him winning his fifth Olympic medal. His other medals include three golds, one silver and one bronze.
Hamelin stated that this year's games will be his last, and that he was elated to win a medal in his final appearance as an athlete in the Olympics.
He added,
"It was a crazy race. It was an awesome race, we had a plan. It didn't work like we planned [but] I think this is short track.
"We raced for the gold and I think the medal we have right now, the bronze, can be as proud as if we were the gold medallist."
Today was the last of the short track speed skating events. Canada saw its athletes winning one gold, one silver and three bronze medals and wereo n the podium in five of the eight short track events.