Canadian MMA Star Rory McDonald Calls Time On Legendary Career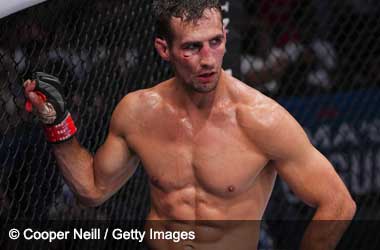 Summary
Rory McDonald suffers TKO loss in PFL semi-finals
The Canadian MMA star has decided to retire after a 17 year career
The Red King was never the same fighter after becoming a born again Christian
Rory 'The Red King' McDonald is the second biggest mixed martial arts (MMA) star in Canada after George St. Pierre. McDonald became one of the most loved MMA stars on the planet when he fought in the Ultimate Fighting Championship (UFC) and had some epic wars including his fight with Robbie Lawler which many MMA fans consider to be the best fight in MMA history, certainly in the welterweight division. 
Rory McDonald Retires After PFL Semi-Final Loss
Rory McDonald hasn't received a lot of media attention after he left the UFC and signed with Bellator. The Red King left the UFC because he wanted a higher paying contract and Bellator was willing to give him one. His move to the second biggest MMA promotion did not pan out the way he expected as McDonald wasn't able to make the impact in Bellator like he did in the UFC.
The Canadian MMA star decided to leave his long time Tristar Gym in Montreal, Canada where he trained for a long time with head coach Firas Zahabi and shift to Florida in 2021. He also switched from Bellator to the Professional Fighters League (PFL) and wanted to make one last push in his career to become the PFL champion and collect a $1 million prize that was guaranteed to the winner.
The Red King fell short in the semi-finals in 2021 and tried once more in 2022 only to meet with the same fate. Over the weekend, McDonald fought late replacement Dilano Taylor in Cardiff, Wales and was finished via strikes in the semi-finals once again.
Rory McDonald later took to Instagram to let his followers know that he was retiring from MMA and was grateful for the 17 year journey that he experienced from the time he was 14.
The Red King finishes with a 23-10-1 record and has wins over big names including Nate Diaz, Tyron Woodley, BJ Penn, Damian Maia and Douglas Lima.
McDonald Not The Same Fighter After Becoming A Christian
The Red King had a streak of violence in him that betting MMA fans loved but he ended up losing that violent stream after becoming a born again Christian. Rory has spoken openly about his walk with God and his love for Jesus Christ and the conflicting emotions he experienced when trying to hurt someone while fighting when he was supposed to love them. His statement can be found on his Twitter profile dated April 30, 2019.