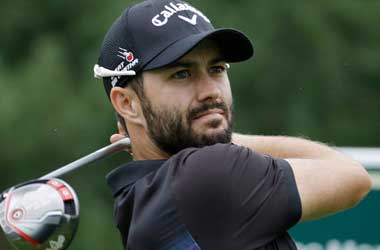 After a year that saw many milestones, Canadian golfer Adam Hadwin feels there is little that will stop him from winning in early 2018 as he gets ready to play the CareerBuilder Challenge, which will be his 2nd tournament of 2018.
The CareerBuilder Challenge has been one of success for Hadwin, who in 2016managed to finish 13 under par and in 2017 was the runner-up.
Said Hadwin,
"You can't go to a place where you played well and finished second at the previous year and not think that you have a chance to win the golf tournament, that's for sure"
Hadwin commented further adding,
"My biggest hope is that people don't expect me to shoot 59 again. At least now I know when I get going low in rounds I've gone really low before and it's nothing new."
The 2016/2017 season was one of the best for Canadian having earned $3.4 million and a 26th place finish in the standings of the Fed Ex series. That success saw Hadwin being the top-ranked Canadian men's golfer and saw Hadwin get his first win at a PGA Tour event. He also was the 8th golfer in the history of the PGA to hit a sub-60 round. Hadwin furthermore was only the 3rd Canadian to play the Presidents Cup.
Golfing World
The success achieved last season will see Hadwin playing each of the 2018 major championships, and this year's schedule will be focus towards the majors and will likely include a few Texas tournaments in May which Hadwin has played in the part. The Memphis, Tennessee FedEx St. Jude Classic is one Hadwin has not played previously but is hoping to add this to his schedule prior to June's U.S Open.
Hadwin, who hails from Abbotsford, British Columbia, had been successful in each level played in his golfing career starting with B.C's junior ranks and progressing through the ranks in college and the development tours. Hadwin believes that last year's success was a result of catching a few breaks and lots hard work.
Hadwin stated,
"Obviously I had been trending in the right direction and it just all came together that week. It was nice to play well under the gun and have things go your way. There was a little bit of a monkey-off-your-back but after the last five or six months the monkey is right back on it, to be honest."
The golfer feels that one area that is key to improvement is with the irons, and has hopes that this will improve as this season progresses. Hadwin said he was not getting the ball on the green that he should have in the 2016/2017season but that his putting skills saved the day per say. It will be an area many golf bettors pay attention to as the season gets underway and they study how Hadwin is performing in after a successful season in 2016/2017.
"When I'm good, I'm good, and I hit a ton of greens, but it just hasn't been very consistent the last couple years. That's what we're after now, just dialling in that consistency in certain situations. We're going to dive into stats a little bit more whatever the case is and really figure out why I'm not as consistent as I should be."
Hadwin, who had a fourth-place finish at the Shaughnessy Golf and Country Club during the RBC Canadian Open, saw that finish being contested. Yet, the golfer doesn't want to see that be a career-defining moment that people think of.
"I'm at the point where I don't want the win to be the defining moment of my career either, I don't want it to be 'blah' after that. I'm always striving for more, always trying to get better, and always looking for win No. 2, then win No. 3 and so on and so on for the rest of my career."