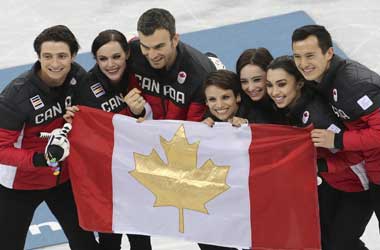 It was a day Team Canada's figure skaters will not forget as it was one that saw them celebrate winning Canada's first gold medal for figure skating at the Olympics In Pyeongchang.
It was Newmarket, Ontario's Gabrielle Daleman's third-place finish on the free skate competition that helped put Canada in a good position for gold. Shortly thereafter, Scott Mori and Tessa Virtue took a first-place finish in the ice dance that collectively helped Canada clinch the gold medal.
Said Daleman,
"I didn't want to let my team down. I just skated with all my heart and just was in the moment completely. Ihave such an incredible, strong team. Not only are we strong as individuals and as a team, but also as a country, and I really am glad with what we've done, and we stepped up and made Canada proud this week."
Daleman scored 137.14 points and that increased the cumulative score for Canada by eight points and brought the collective total to sixty-three points. Finishing in second were the U.S with fifty-eight points and Russia with fifty-three. It was Daleman's performance that made the difference as the U.S nor Russia were able to touch Moir and Virtue.
CBC News
Canada was favoured to win the gold and could have gone with a safer performance but Moir and Virtue stepped it up and had a wonderful performance. This saw them sitting in top spot for the ice dance competition earning the duo 118.10 points and giving Team Canada a seventy-three point total, miles ahead of the U.S and third place Russia.
Other Olympic News
Deux-Montagnes, Quebec's Mikael Kingsbury earned his first Olympic medal after dominating in the Men's mogul, which complemented Jutine Dufour-Lapointe's Silver win in the Women's Moguls earlier in the week. He earned a combined score of 8663 while Matt Graham of Australia earned a silver medal with his score of 82.57. while Daichi Hara captured bronze with 82.19. Japan's Daichi Hara won the bronze medal and Terrebonne, Quebec's Marc-Antoine Gagnon finished in fourth place with 77.02.
As the current World Cup leader, Kingsbury won a silver medal in Sochi and qualified with a score of 86.07 on Friday. Having already won six World Cup titles, it is expected he will see his 7th this season. His win brings the total medal count for Canada to seven with those being two golds, four silvers and one bronze.
Canada's Patrick Chan, a three-time World Champion, helped get Canada's figure skating placing first with his score of 179.75 during the free program for men, and this helped set the stage for Gabrielle Daleman. For Chan, Moir and Virtue, it will most likely be their final Olympics and winning gold is the perfect way to finish their Olympic experience.
An hour after the gold won in figure skating, Laurie Blouin added a silver medal to Canada's total with her performance in the women's slopestyle. Blouin, who crashed while on a training run earlier in the week was showing the results with a black eye but managed to overcome the high wins with a second run that earned her a score of 76.33. Blouin finished behind the U.S's Jamie Anderson. Anderson had a fantastic first run result of 83.00, Finland's, Enni Rukajarvi took third and won the bronze medal with his 73.91 score.
Said Blouin,
"Now I'm here in second place, I just don't believe it. It's a dream come true."
Canadians, Brooke Voigt and Spencer O'Brien finished 21st and 22nd respectively in the women's slopestyle. The competition had to be delayed for over an hour as a result of high winds for the protection of athetes.
In curling news, Canada moved one step closer to winning gold with its win over Norway. Kaitlyn Lawes and John Morris, hailing from Winnipeg and Ottawa triumphed over Magnus Nedregotten and Kristin Skaslien to win sevent of eight outings.
"I was obviously a little bit frustrated with not being able to finish it off with my last rock. I tried not to get too frustrated and let it bug me. And John was a huge support. He just kept saying 'Be patient. Let's figure it out. We've got eight ends. We can use all eight, so let's just take our time here."'
Canada will now face Switzerland in Tuesday for the gold medal, whilst Russia will face Norway for the bronze medal.