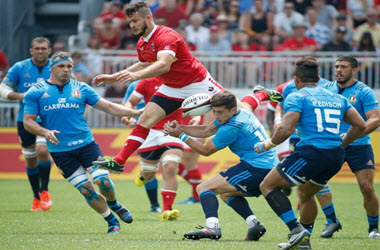 Team Canada will face off against Italy on Thursday at the Rugby World Cup, and it could be a key game for Canada in their bid to qualify for the 2023 Rugby World Cup. If Canada is successful against Italy, then succeeds in their game against Namibia, it should put them in line for 2023.
DTH van der Merwe, a veteran winger for Canada, did his part in the last world cup and is hoping to do the same this year to help the team qualify for 2023. The only way to do that is to come away with a win over Italy and Namibia in Pool B and in a strong group that includes South Africa and New Zealand, it would be enough to turn some heads. Speaking on what has been done and what is needed, van der Merwe said,
"We had a bit of goal-setting, and that's definitely one of our goals, to qualify for the next World Cup. It's been a tough (past) four years."
If DTH van der Merwe managed a try in the game against Italy, it will put him in the history books as the second player ever to score is five back-to-back World Cup matches. The only other player to achieve this was New Zealand's Jonah Lomu. At 33, South African born van der Merwe immigrated to Canada has scored in each of the last four World Cup matches Canada has played. However, Canada lost all four, and it was a first that Canada lost each game it played at the World Cup. Speaking on the experience, van der Merwe said,
"I've got some really good memories of it on the personal performance side of things, but nothing for me gets measured on my personal accolades. It's more about what happens with the team. Bittersweet is probably the best way to sum up that World Cup."
Get ready to get HYPED Canada!!! Together we embark on the #RWC2019 tonight against @Federugby at 3:45am ET/ 12:45am PT 🏉🍁 #RugbyCA 📺LIVE on @TSN_Sports 1, 3, 4
Line-ups, updates, and more on @rugbyworldcup's Match Centre >> https://t.co/2gnNdrhazl pic.twitter.com/XPboJmvjc2

— Rugby Canada (@RugbyCanada) September 26, 2019
Van der Merwe will be making his fourth appearance at the Rugby World Cup, one that Canada nearly didn't qualify for as it was required to play a three-match repechage tournament. Van der Merwe was instrumental in getting them through the repechage tournament scoring two tries against Hong Kong making it the last team to qualify.
After whipping down the left flank, and overcoming three tackles, van der Merwe leaped over the line to score the winning try. That saw his teammates rushing the South African expat and for good reason. It ensured that Canada would maintain its record of making every World Cup and avoid facing financial difficulties. Van der Merwe has been a proven finisher for Canada and as a senior player, plays a pivotal role in leading the younger members on the team. Speaking on what Canada was facing, van der Merwe said,
"It was a big fright. There was a lot of pressure on us. The future of the youngsters in the grassroots levels for Rugby Canada was at stake in that game. Those are things that are going through your mind, not just the money, but where the program would be if we didn't make it to a World Cup, the funding we'd lose."
There is little doubt that qualifying was a big relief for Canada, a team that has had multiple coaching changes since 2015. Van der Merwe, who has played Rugby in Scotland, Wales and England for more than a decade, is pleased with the stability that the team's latest coach Kingsley Jones brings to the table. Commenting, van der Merwe said,
"A lot of disruption, which has not been ideal, and we made (Canada's rugby) union aware that we're not happy about that. This time around we've got a good balance of youth and older guys. The older guys can probably put a cap on the excitement and be a bit more level-headed, and you can use the youth to be exuberant and just play without fear."
Another veteran of the team, Hubert Buydens, is 38 and Canada's third oldest player beyond that of Spencer McTavish and Mark Cardinal. Buydens was one of the ones that joined van der Merwe on the field in New Zealand when it scored a victory over Tonga. While Van der Merwe failed to score in that game, he intends to increase his national record on Thursday and should he add two more tries to his record, he will set a record of 200 points.