CanMNT Still Not Sure Of Financial Payouts Ahead Of Qatar 2022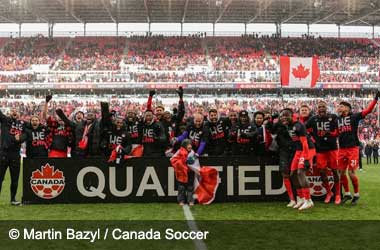 Summary
Canada Soccer is yet to respond to a proposed offer from their soccer team
The men's and women's team want an equal share of the $10M qualifying purse
Team are currently preparing for the 2022 FIFA World Cup in Vienna
The 2022 FIFA World Cup is set to be the biggest sporting event of this year and will take place in Qatar in November. The Canadian team is currently in Vienna, preparing for the World Cup but there are a few lingering financial concerns that the players would like resolved at the earliest.
Canada Soccer Yet To Confirm On Financial Payout
Once the Canadian team qualified for the 2022 FIFA World Cup, they were guaranteed $10 million in prize money as the qualifying fee. The Canadian men's team want Canada Soccer to split 80 percent of the prize money equally between them and the women's team.
This proposed split in the qualifying fee was brought to Canada Soccer by the Canadian Men's National Soccer Team Players Association (CMNSTPA) who was officially appointed as the bargaining agent for the men's team. Canadian Soccer Players Association which represents the women's team has so far stayed silent on the matter.
There are a number of internal issues that need to be sort out before Canada Soccer reaches an agreement on the proposed payout terms. Legal counsel for Canada Soccer, Sean Bawden is reported to have reminded CMNSTPA that the men's national team currently owes Canada Soccer $3.5 million in lost ticket revenue after they decided to play a game against Panama on June 5.
The men's team did not play against Panama because they had placed a demand on June 4 for Canada Soccer to give them an after tax payment of $4 million for qualifying for the World Cup which Canada Soccer has not agreed to till now. Canada Soccer is highly unlikely to go after the players to collect the $3.5 million but it is being used as a bargaining chip in the proposed agreement.
Canada Have A Tough Challenge In Group F
Canada is placed in Group F for the 2022 FIFA World Cup which is a really tough group. Canada are alongside Croatia, Belgium and Morocco. They will start playing their warm-up games when they take on Qatar in Vienna on Sep 23, followed by Uruguay on Sep 27 in Slovakia. Get the latest live odds for Qatar 2022, right here.