Canada Into WHC Semi After 4-1 Win Over Defending Champions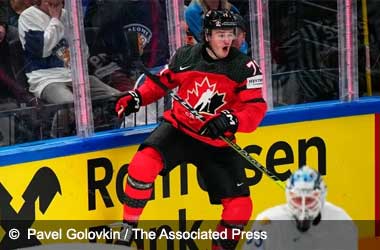 Summary
Canada beat Finland 4-1 to advance to the semi-final of the WHC
Canada will now play Latvia in the semis on 27 May
The second semi-final will see the United States vs. Germany
The World Hockey Championship (WHC) which is currently taking place in Tampere, Finland, and Riga, Latvia has come down to the final stage of the competition and the action is heating up with the top four hockey teams making it to the semi-finals.
Canada Beat Finland To Advance To Semis
Hockey Canada prepared an impressive management team ahead of the tournament which has helped the team progress in tournmanet. Team Canada had a tough opponent in the quarter-finals as they took on Finland. Canada and Finland have been the top two teams for the last few years at the WHC. Finland who have beaten Canada in 2018 and then for the title in 2019 to win the WHC and was keen on sending Team Canada home once again at the 2023 World Hockey Championship.
Finland did go into the quarterfinal with an added advantage as they were playing in front of a home crowd. However, Canada came into the game completely focused and had a great start that immediately put Finland under pressure.
While the last few games between Canada and Finland have been very competitive, this time it was a different story as Jack Quinn, Samuel Blais, Michael Carcone scored for Canada to give them a 3-0 lead. Finland tried hard to push the pace but the Canadian defense was sold until the 3rd quarter when Teemu Hartikainen scored to make it 3-1 for Finland.
Canada scored once again as Tyler Toffoli found the back of the net to make it 4-1 for Team Canada and give them the victory.
Canada Looking Forward To Playing Latvia
Canada will now take on Latvia in the semi-finals after Latvia caused a big upset by beating Sweden in the quarter-finals 3-1. Canada should feel a little more comfortable taking on Latvia in the semi-finals but will now they cannot afford to be complacent or they could end up suffering a similar fate as Sweden.
Canada's goalie Samuel Montembeault said their goal entering this tournament was to go all the way and win gold for Canada and they are now one step closer after beating Finland. Canada will take on Latvia at the Nokia stadium in Tampere, Finland.
The second semi-final will see the United States take on Germany in what promises to be a very exciting clash with the United States having a slight edge over the Germans.  If both make it through their respective matches then a Canada vs USA final might be once again on the horizon.
Current odds provided by Betway
Canada: -286 vs Latvia: +600 / USA: -200 vs Germany: +425