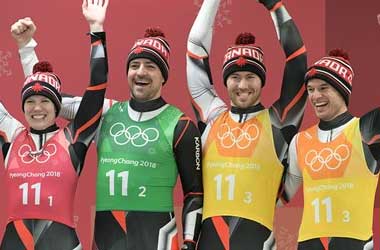 Canada has earned another medal in the luge competition during the relay team race with a time of two minutes and 24.872 seconds. Taking gold was Germany with a time of two minutes, 24.517 seconds, and bronze went to Austria with their time of two minutes, 24.988 seconds.
The Canadians maede up of Tristan Walker, Justin Snith, Alex Gough and Sam Edney were looking strong and were at the top of the standings before Germany and Austria were set to take their last run. For a team that had a fourth-place finish in the last Olympic Winter Games, the first for the team, it was redemption considering the last games saw the bronze lost by a tenth of a second, and a hard pill to swallow.
Canada was awarded the bronze in the 2014 games after Russian athletes lost their medal for violations relating to doping, the Russians also were handed lifetime bans. However, after the recent Court of Arbitration ruling, that decision was overturned and Canada was once again put to fourth, and the medal went to the Russian luge athletes.
For Samuel Edney, the silver medal says a lot,
It shows the strength of our team. That fuelled us. That fuelled us for a long time. I just know that we put in all the hard work and we did everything right. Tonight was about sliding for each other and sliding for Canada, and we did that.
Earlier in the week, Canada earned its luge medal when Alex Gough won bronze in the Women's singles completion. Germany also proved to be strong competitors in the Women's singles event taking gold and silver.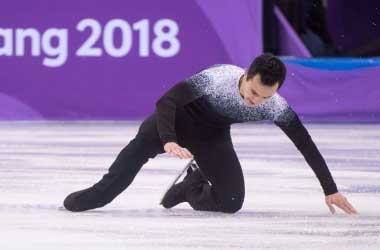 Chan sitting 6th in men's figure skating short program
Patrick Chan is sitting in sixth position in the men's short program after stumbling when landing a triple axel. Chan, a three-time World Champion was 21.67 points behind Japan's Yuzuru Hanyu with his score of 90.01, and Shoma Uno from Japan is in third with his score of 104.17.
Chan began his routine with a quadruple toe loop that wooed the crowd, but the fall impacted his score substantially.
Said Chan, when asked about his routine,
Yeah, I do, I do (hate the triple Axel). I've been blessed with good skating skills but not good triple Axel skills.
Chan was on the Canadian team that won gold earlier in the week. For Canada, that was a first and one celebrated by all, especially Skating Canada.
Meryeta O'Dine out of snowboardcross completion with concussion
Meryeta O'Dine, a member of the Canadian snowboard team, has had to exit the competition due to a concussion she suffered as a result of a fall during training. Based in Prince George, O'Dine commented that she was saddened, but this was a decision for her health.
As an athlete, you always want to push your limits, but it's important to stop when you have to. I am proud to have travelled here.
As a result of O'Dines retirement from the snowboardcross competition, there will be no Canadians competing as Kelowna's Tess Critchlow placed ninth and failed to make the final.