Canada Create History Winning Their First Billie Jean King Cup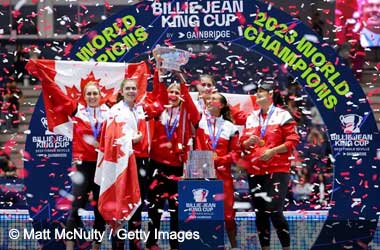 Summary
Team Canada beat Italy in the finals of the 2023 Billie Jean King Cup
Young Canadian players Leylah Fernandez and Marina Stakusic were outstanding
This is the first time that Team Canada has won the Billie Jean King Cup
Team Canada surprised a lot of tennis fans around the world with their performance in the 2023 Billie Jean King Cup which took place in Seville, Spain.
Formerly known as the Federations Cup or the Fed Cup, the Billie Jean King Cup is widely regarded as the most prestigious tennis tournament in the world and equivalent to a World Cup.
Twelve of the top tennis teams in the world competed at the 2023 Billie Jean King Cup and the two teams that made it to the finals were Canada and Italy.
Canada Beat Italy To Win First Billie Jean King Cup
Going into the tournament, Team Canada were not the betting favorites as they had never won the Billie Jean King Cup. Their best showing in the tournament was back in 1988 when they made it to the semi-finals and lost to the Czech Republic. They beat that record when they made it to the final and were confident that they would do well against Italy.
Team Canada Captain Heidi El Tabakh did a great job in leading her team during this tournament and her players did not let her down in the finals. Canada's young guns fired throughout this tournament and they delivered once again in the finals as Leylah Fernandez and Marina Stakusic won their singles matches to give them a 2-0 win over Italy.
Canada have now become the 13th nation in the world to win the Billie Jean King Cup and created history in the process as it their first ever Billie Jean King Cup win! Team Canada will receive $2.4 million in prize money for their first place finish, the same amount that the men's team win at the Fed Cup.
Young Guns Shine On Big Stage
The two young guns in Team Canada put on a phenomenal display with 35th ranked Leylah Fernandez winning all 5 of her matches in the tournament. Marina Stakusic who is just 18 years old was also fantastic for Canada winning 3 out of her 4 matches in the tournament.
Heidi El Tabakh said that she was extremely proud of her team for creating history and winning the Billie Jean King Cup.