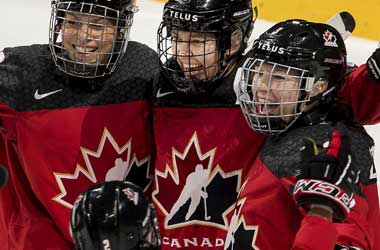 The PyeongChang Winter Olympics is scheduled to take place in February and every country is working hard to put together their respective set of athletes and teams that will feature in PyeongChang. The women's hockey teams from USA and Canada faced off once again on Sunday to test their skills against each other and also to finalize which players will make the trip.
The two arch-rivals faced off on December 3, as part of the 'Time Is Now Tour' at the Xcel Energy Center in St. Paul and were cheered on by over 9,000 fans. The two national teams were scheduled to face each other as many as 8 times from October 2018 to the lead up to the Winter Olympics.
Before Sunday's game, the two teams had played four tight matches and the US managed to get the better of Canada in three of those games.
Canada managed to pull one back in overtime and make it 2-3 thanks to some great team work. The win will give the Canadian National Hockey team immense confidence leading into the Olympics as the US has dominated Canada for a number of years.
USA HOCKEY
The US has won the last four world championships and have a 12-6 record against Canada since 2014. They were also the favourites going into the 2018 PyeongChang Winter Olympics but with this win, Canada will now know that they can win gold at PyeongChang.
Whenever the USA and Canada have played a major championship in the last four years, it has invariably gone into overtime.
This was a warm-up game in many ways for both teams as USA and Canada look to iron out their game strategy, player starting line-up and work out chinks in their game plan. However, the Americans are hurting from the loss to arch-rivals Canada.
In a statement, Gigi Marvin who plays defense for Team USA said
It's super disappointing that we lost because you want to win every time you have the USA sweater on, especially against Canada and in your home rink with your friends and family in the stands, but there's great things that you can take from this, and we know that this isn't the end point
Laura Schuler, head coach for Team Canada was happy with the effort her players put in and said that this game was indicative of how Canada can raise their game and go to the next level.