Canada Advances To QF After Defeating Japan At FIBA WWC 2022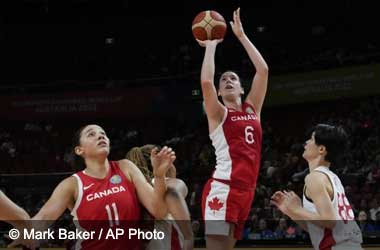 Summary
Canada beat Japan 70-56 to move to the quarter-finals
Canada's win over Japan will see result in them avoiding the U.S in a quarterfinal clash
Canada will play Australia and Mali in the prelims this week
Canada's women's basketball team is giving fans something to cheer about at the FIBA Women's World Cup. The Canadians took on Japan on Sunday night and put in a strong performance to finish with a 70-56 scoreline.
Canada Books Place In Quarter-Finals
Canada has now booked a place for themselves in the FIBA quarter-finals. Their win over Japan has also meant that Canada will not face the United States in the quarter-finals. The US are arguably the most powerful team at FIBA and the biggest threat to Canada in the competition.
Canada went into the game against Japan knowing that they had a tough challenge before them as Japan had beat them earlier this year in Osaka. Canada had a 20 point lead during that game but squandered it and ended up on the losing side. Canada made no such mistakes during their preliminary match against Japan as they came out with a strong game plan and stuck to it.
Bridget Carleton was the standout player for the Canadians scoring 19 points and finishing with 6 rebounds. Her performance against Japan is encouraging as Carleton had a rather average performance in the first two prelims that Canada played at FIBA.
Carleton said the team was very happy with their performance overall as the goal for them is to win every single game. With Canada sitting comfortably at 3-0 now, Carleton is confident that Canada will end up with another podium finish at FIBA.
Canada have won bronze at the World Cup on two occasions back in 1979 and 1986. This Canadian team is determined to do better and become the first Canadian women's team to win gold!
Canada Will Use Remaining Prelims To Prepare
Canada have now won all three of their prelims and have two more left before they prepare for their quarter-finals. Canada will play Australia at the start of this week and then have a game against Mali, you can find the latest basketball odds for both the remaining games, right here.
The Canadians will look to use these remaining two prelim games to experiment with different game plans, test their bench strength and give their top players more opportunities to shine.