Rogers Doubles Hammer Throw Gold For Canada At 2023 World Athletics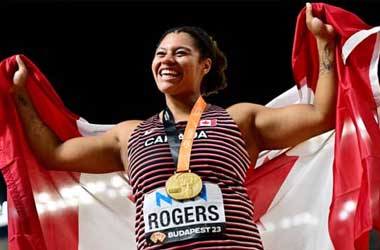 Summary
Camryn Rogers won gold at the 2023 World Athletics Championships
She became the first Canadian woman in 20 years to win gold in the hammer throw event
Canada now have 2 gold medals as the 2023 World Athletics Championships comes to a close
The 2023 World Athletics Championships which is currently underway in Budapest, Hungary will come to a close on 27 Aug. Canada have not a lot of success in terms of overall medals at the World Athletics but will be pleased with Camryn Rogers bringing in a second gold medal.
Camryn Rogers Claims Women's Hammer Throw Title
The first gold medal came earlier in the week, when the 21 year old Ethan Katzberg won gold in the hammer throw event. Canada's second gold medal also came in the hammer throw even on Aug 24 when Camryn Rogers became the first Canadian woman in two decades to win gold in the hammer throw event.
The first woman to win gold in the hammer throw event for Canada was Perdita Felicien who achieved the feat back in 2003. Rogers who comes from Richmond, B.C. ended up throwing 77.22 metres on her first throw in the hammer throw event which was enough to help her win gold!
The silver medal in the hammer throw event was won by American Janee' Kassanavoid who finished with 76.36 metres and bronze went to American DeAnna Price who finished with a throw of 75.41 metres. 
Rogers Very Please To Win Gold For Canada
The 24 year old Rogers had a lot of confidence coming into the 2023 WAC as she is a 3 time NCAA record holder and champ. She won a gold medal during the 2022 Commonwealth Games and entered the 2023 World Athletics holding the second spot in the hammer throw rankings.
After her win, Rogers said
It's almost hard to wrap my mind around everything that's happened. I think it's gonna hit me later on. What an incredible and magical night. Being able to win this medal for Canada means the world to me. I am so proud to represent my country on the world's stage.
Rogers also said that with Ethan and her winning gold for Canada in the hammer throw event, it sent a message that Canada was making a statement to the rest of the world.
While Canada won gold in the hammer throw events for men and women, Canada has failed to win any other medals as of this writing at the 2023 World Athletics.