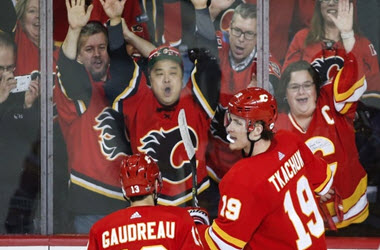 Round one of the playoffs is in full swing and the Calgary Flames are off to a good start after the Colorado Avalanche rolled into town for game 1 and best of seven only to leave with their tails between their legs.
Andrew Mangiapane scored the winning goal in what was a shutout for goalie Mike Smith as the Calgary Flames went on to score four goals and come away victorious against the Colorado Avalanche to win Game 1.
With a scoreless first period, and the second looking it might end in the same way, Calgary's Andrew Mangiapane put an end to that with an unassisted goal at 14:25. The lead up started with a hard hit by Garnett Hattaway on Erik Johnson that saw Mangiapane pick up the loose puck taking it straight to the net and going into the crease before putting a backhand shot past Philipp Grubauer. Commenting, Mangiapane said,
"The puck was sitting there for me. I had space and took it to the net. It was a nice play by Derek Ryan in front, tying him up and screening the goalie. I just wanted to bring it to my backhand and I saw open ice there. I'm happy it went in,"
Sportsnet
Mikael Backlund scored one goal, and Matthew Tkachuk had two goals, including one that was scored on an empty net. It was the Flames first playoff game win since 2015 when it beat the Anaheim Ducks. One big moment came in the second period after the Colorado Avalanche went on their third back-to-back power play, however, in each, they failed to get momentum they needed, and the shots they did manage to send at Smith were denied with big saves and keeping the two scoreless.
The first of the saves came after stopped a backhand shot from Gabriel Landeskog, who was in front of the net alone, the second came after Smith denied a shot from Derrick Brassard. Speaking on the game and penalty kills, Smith said,
"Our killers did an unbelievable job to kill off all those penalties and I was able to make a couple big saves there in the second, then we go down the ice and Mangiapane scores a big goal for us, so obviously that's a big momentum swing in the game,"
After Smith's remarkable poise in the net, the crowds, most wearing red jersey's got behind him and could be heard chanting "Smitty, Smitty, Smitty". The support wasn't lost on Smith, who said,
"I haven't quite heard anything like that before in my career, it gives you some confidence when you hear your name getting chanted,"
This is the first year since 2012 that Smith has played in the playoffs and had a shutout in the playoffs. His last came while with the Phoenix Coyotes and had 36 saves in the Western Conference final against the Los Angeles Kings in Game 4.
The Colorado Avalanche and Calgary Flames will meet for Game 2 of the series on Saturday in Calgary at the Scotiabank Saddledome. Punters looking for playoff action will find substantial promotions in place as sportsbooks such as Bet365, a leader in online sports betting offering new players up to $200 in signup bonuses, gear up for what is expected to be a tough battle ahead. Register today and capitalise on betting potential with Bet365.