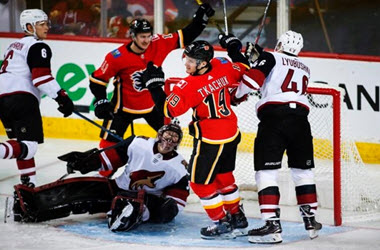 Calgary's Mark Giordano played his 800th game in the NHL last night in styles scoring two goals and an assist to match his career best after Calgary defeated the Arizona Coyotes 7-1.
The night was a big night for Giordano, a milestone in a ten year career that has seen the captain play with Calgary since being drafted in 2005. Gaudreau's point streak now increases to eight games. Commenting on the achievement, Calgary coach Bill Peters said,
"Whenever you're playing in a milestone game, you want to win it, first and foremost. When you win it and you're plus-five with three points, that's something you can tell your kids and they're going to look it up and hey, it wasn't a lie. Good for him."
At 35, Giordano has amassed 47 points this season, 38 of those were assists, 9 goals, and that places him in second among NHL defencemen and only five points out of first. His fellow defencemen, TJ Brodie, is only four points behind and sits in third. For Giordano, it felt good,
"Big win for the team. It felt like we had good puck control, good movement, especially in the first and third."
The Calgary Flames shot out in front of the Arizona Coyotes last night scoring two goals less than 70 seconds apart in the first period. One of those came from Giordano as they neared the 17 minute mark after he took a shot from a sharp angle connecting with the top corner of the net. Bill Peters said Giordano is a smart guy adding,
"He shows some patience, letting the screen develop and then all of a sudden, it's on and off his stick at the right time."
Sportsnet
Sean Monohan scored the second of the two 68 seconds later after converting a pass from Johnny Gaudreau after Arizona failed to cover the forward. Matthew Tkachuk made it 3-1 90 seconds into the second, and Johnny Gaudreau made it 4-0 with 2:40 remaining in the second.
Arizona finally got on the board after going on a power play in the final minute of the second, Matthew Tkachuk scored Calgary's fifth goal 4:30 seconds into the third. Giordano grabbed his second of the night two minutes later to put Calgary ahead 6-1, and Sam Bennett needs another two minutes to make it 7-1.
While the Coyotes managed to drop the deficit to 7-2 last in the third, Calgary goalie, Mike Smith was impressed with Giordano commenting that,
"One of the best captains I've played for, for sure, over my career. The way he competes on the ice, the way he practises, is just the epitome of being a true professional. Unbelievable guy off the ice to be around, too. I've been here a short time but it doesn't take you long to figure out what kind of person he is and what kind of leader he is. Eight hundred games in this league playing the way he does says a lot about the person he is and the player he is. He deserves it."
The night proved to be a good one as David Rittich was scratched and Smith called to duty. Smith has had some struggles in recent games but was on point last night with 22 saves including one acrobatic save that stopped a shot from Arizona's Derek Stepan. Smith commented, in post-game interviews, that he was felt good with his performance adding,
"As a goalie, that feels good when you can make some saves for your team and they can go down and capitalize on our chances. Nice to keep the winning streak going and get back in there and feel good."
Calgary has now won its last five games and eight of their ten and are now out front by three points in the Pacific Division over second place San Jose. Calgary's win ratio has not gone unnoticed by leading sportsbooks such as bet365, who over NHL action along with generous signup bonuses. Highly recommended for punters who want to play with a trusted leader in online sports betting, bet365 is a betting.ca favourite for their proactive promotions and welcome bonuses.
Rick Tocchet, coach of the Coyotes, noted they were playing against a first-place team adding,
"We can't have four or five guys on the outside, looking in. We had four guys that weren't good tonight and Calgary smelt it after the first period."
Calgary is set to welcome the Buffalo Sabres on Wednesday for a 7:30pm game before playing host to the Detroit Red Wings on Friday. Arizona will have a two rest before welcoming the San Jose Sharks on Wednesday and the Penguins on Friday.