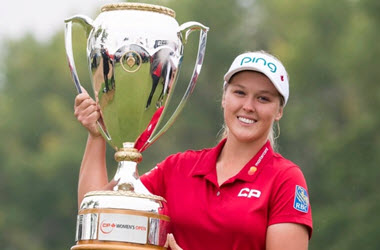 Brooke Henderson came out ready to play, and with a steely focus on the task ahead, and only one stroke behind the leader. As the rain stopped falling and Henderson tapped in an easy put, it was the 20 year old Canadian from Smith Falls, Ontario waving to the crowd as she celebrated winning the CP Women's challenge.
Henderson had a solid outing in all four rounds of the Open and became the first women to win an LPGA event in Canada since 1973. To add to that, it was a national championship title. Her efforts earned her a champagne shower and a cheque for $337,500usd.
The last Canadian women to win an LPGA event in Canada was Jocelyne Bourassa. Henderson did what Mike Weir was unable, and in traditional style, the weather proved to be difficult as wind and rain swept the course in what saw players and crowds alike reaching for umbrellas.
At the age of 20, Henderson is part of a younger generation in Canadian sports. She is for many considered to be the "Tiger Woods" of women's golf, and that was noted by top-ranked golfer Sung Hyun Park, who was impressed with Henderson after joining her on the course for the first two rounds. Commenting, Park said,
"I was really surprised at how many fans came out to support Brooke today. To witness that was pretty awesome."
As the champagne flowed over Henderson after sinking her last put to earn the win, those in the crowd were treated to a victory lap per say as she walked up the 18th hole fairway will remember the day that this young golfer made history.
LPGA
The week saw Henderson showing class as a young golfer, poised and in control. The first two rounds saw her shooting 66 and going into rounds three and four slightly behind the leaders. Last year's CP Women's Open Henderson needed a birdie to make the final round only to find herself in contention after a record breaking 63. This year, she was in control.
While last year didn't end in a fairy tale, there was little doubt Henderson was one to watch, and she proved that in all four rounds at this year's tournament. After getting a birdie on the first hole, and then three more in the first nine, she nailed a pair of bogeys to separate herself from the rest of the pack.
On the 12th hole, she birdied again and was up by three strokes. Her sister, a former professional LPGA player, by her side after becoming a professional caddie, she helped her younger sister make the right choices with her short put on the 13th to remain three strokes up.
After shooting another birdie on the 14th and increasing her four round total to 19 under-par, Henderson never let up as she birdied the 16th. Staying focus was key to her success considering her playing mate was Angel Yin, a top-ranked American player. However, it was Yin who was chasing Henderson as she finished the day 17 under-par compared to Henderson's 21 under.
Facing stiff competition has caused many players to falter, but Henderson proved that she is worthy as she sunk her last put and closed the tournament 65 under-par – not bad for a kid from Smith Falls. Today's win was her 7th win on the LPGA tour and puts her well on her way to being one of Canada's best golfers. At 20, she is only getting started, and for punters following the LPGA tournament, the ladies next visit the Cambia Portland Classic and then will head to France for The Evian Championship and a$3,850,000 purse. Those wishing to place bets on the upcoming tournaments may want to consider registering with one of our recommended golf betting sites as each is offering generous sign-up bonuses and a range of regular on-going promotions.