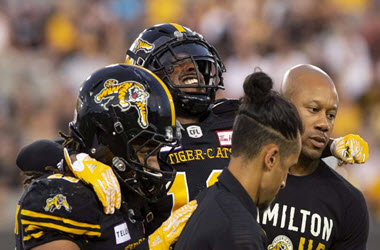 The Hamilton Ti-Cats will once again be without their star receiver today when they face off against the B.C Lions while Brandon Banks continues to recover from a groin injury.
The injury to Banks in just one of a number of injuries that have plagued the Ti-Cats this season as they fight to earn a playoff spot. The B.C Lions also have been struggling with a list of injuries this year and are without Travis Lulay, their starting quarterback Hamilton's head coach, June Jones commented on Friday that did not join the team in B.C and remains on the injured list as a "game-day decision". He added that,
"You've got to see who's ready and who can play, who can go out there. We've had a lot of injuries … and we're making adjustments."
Banks has racked up 1,033 receiving yards in the games he has played this year. That includes seven touchdown passes, but the star receiver was absent for the Calgary game last week, one that saw Hamilton lose 43-28.
Adding to the woes of the  Hamilton Ti-Cats, receivers Chris Williams and Jalen Saunders are both out with what looks like injuries that could keep them on the sidelines for the rest of the season. Jeremiah Masoli, quarterback for Hamilton, commented that the rest of the team are ready to step up saying,
"Some of the guys just keep getting better, keep getting better every day and we'll be alright, man. We've still got a lot of games left, a lot of opportunities to put up a lot of yards and points. So I feel like we'll be alright."
🗣 "You've got to change your game plan a little bit when you go up against scrambling quarterbacks."

Get prepped for tonight's match up 🆚 the #BCLions with our game preview.

🗞 > https://t.co/gAdMHTBvID #HamiltonProud | #Ticats pic.twitter.com/DBZMvHFDLB

— Hamilton Tiger-Cats (@Ticats) September 22, 2018
Jeremiah Masoli has earned 3,786 yards in twelve games this season. That includes sixteen touchdowns, and for B.C, it means doing all they can to control Masoli if they want to control the game on Saturday.
Lions head coach, Wally Bruno, in pre-game interviews said,
"He does a lot of things well. He's strong, he runs, he keeps plays alive, he's a running back, he's a quarterback, he's a scrambler, Masoli doesn't seem to have a bad play or a good play phase him all that much."
After quarterback Travis Lulay dislocated his shoulder last Saturday, the Lions will have to rely on Jonathon Jennings to get the job done. Jennings has not started a game since the beginning of July, but with Lulay out, the Lions have little choice in the matter.
Jennings, who is 26, is well aware of the pressure stating that the last game was like a dress rehearsal. He added that is excited to be back and that the team is showing support and believe in his abilities.
As for the Ti-Cats, they are ready for what Jennings brings to the field. Jumal Rolle, a defensive back with Hamilton feels Jennings is a dual threat adding that,
"we have to be aware of his feet, knowing that he can run, he can understand plays," said the centre back. "We want to do our best to stay on top, stay on coverage and cover as long as we can because we know Jennings can understand the play."
Hamilton also has to be aware of the Lions defence, which has been strong of late. They had four interceptions in their game against the Alouettes last week and registered seven sacks. Coach Bruno commented that the players and the defensive staff are getting the system. He stated that,
"I think the defence has evolved and the evolution has caused way more pressure on the quarterback, way more turnovers. And that's usually what you need to win football games,"
Shawn Lemon, one of those defensive players feels that he, as well as other defensive linemen, are taking each game one at a time and focus on what they do best. At 30 years old, Lemon was added to the Lion's roaster in July in a Toronto Argonauts trade. His performance in his first six games with the Lions has been impressive with seven sacks registered and ten defensive tackles.
Commenting, Lemon said,
"It's just all about confidence, man. You just keep telling guys that, putting that confidence in their minds and they'll go out there and play like that."
The Ti-cats face off against the B.C Lions tonight in Vancouver and with Banks still out, the Lions will have a slight edge. Two of the CFL's best teams, punters interested in CFL action will find some solid betting opportunities from leading Canadians sportsbooks, who are welcoming new sign-ups with generous bonuses. How soon Banks will recover has yet to be determined, but with him missing the last two games, it is hopeful he will return to the lineup soon.