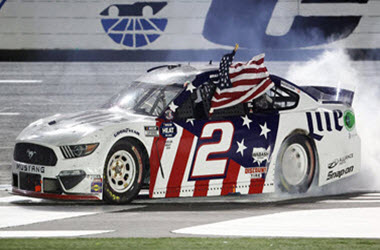 The start of the Coca-Cola 600 was one that Brad Keselowski would have liked to see different, but as he weaved his way through the pack to the front at the Charlotte Motor Speedway, those feelings changed.
Keselowski, who is on a one-year contract with Penske Racing, and his team opted not to pit during a caution. That caution brought an end to Chase Elliott winning a race that he only needed to complete two more laps to secure, and by not pitting, it gave Brad Keselowski and Team Penske the win.
While the win may not have been how Brad Keselowski wanted it to be, it did increase his value before heading into free agency next season. The win also saw Jimmie Johnson, who now has gone 102 races without a win, failing to bring an end to his losing streak.
Sunday's win was Keselowski first this season, his first victory in the Coca-Cola 600 and was the first time he has won driving a Ford since 2002. After heading into victory lane, Keselowski celebrated the win with victory burnouts as he made his way into the front stretch of the Charlotte Motor Speedway while waving the American flag. As he exited his car, it was a stark reminder of the impact COVID-19 has had on racing as instead of being cheered by adoring fans, he was met with near silence. Commenting, Keselowski said,
"I was kind of bummed. I wanted to win the 600 my whole life and wanted to win in front of everybody, but that's not always how it works. I know there are fans that wish they could be in the stands."
NASCAR on FOX
NASCAR is still working to adapt to its return to racing during the current coronavirus pandemic. Sunday's race was the third in the last seven days, all of which were held without fans and had limited media in attendance to help reduce the risk of spreading the virus. With the NASCAR series finally back underway, sports punters interested in once again placing bets on their favourite drivers or the outcome of the race will find bookmakers such as Bet365 offering lucrative sign-up packages. Registering today gives you an advantage with an increased bankroll that under the current conditions is a valuable commodity.
As Keselowski headed into the media centre, he sported a plain white Team Penske mask, and instead of being met with mobs of reporters, he was met with a computer screen, on that Keselowski struggled to hear while still adjusting his hearing post-race. Usually, Sunday's during Memorial Day weekend celebrations are filled with a packed sports calendar that includes the Indianapolis 500, the F1 Monaco Grand Prix and ends with the Coco-Cola 600. However, the pandemic saw much of Formula One schedule being cancelled or postponed as it did for IndyCar, with both still on hold and unsure when their season will start.
Roger Penske, who is now the owner of the Indianapolis Motor Speedway had to cancel the Indy 500. As a result, it was a first since 1946 that the famous race was not held during the Memorial Day weekend. At least not all news was bad for Penske after NASCAR received the nod to resume racing after state officials approved approval of its health plan. This allowed NASCAR to return to racing after a 10-week absence starting with three races in South Carolina and then the Coca-Cola 600 at the Charlotte Motor Speedway.
Fans watching the race were left with another disappointment after rain brought a stop to the race during the first stage resulting in the remainder of the race being pushed over to Monday. However, the result still worked out well for Penske, who should have been celebrating Memorial Day with his family on Monday, but was instead at trackside to celebrate Keselowski's win. Commenting on the win for Penske, Keselowski said,
"This is one of the biggest days for him. Winning never hurts. This is my 30th win and I think I have another 30 in me."
Finishing in second for Hendrick Motorsports was Jimmy Johnson and in third was teammate Chase Elliott. This was a disappointment for Chevrolet who are still looking for their first win since racing resumed. It was also a disappointment for Johnston after learning that NASCAR disqualified his Chevy after it failed a post-race inspection. Commenting on the disappointment, Cliff Daniels, who is Johnson's crew chief stated,
"We think something must've broken, but won't know until we get it back to the shop. Tough news after a strong night."
Elliott was looking like he would secure his first win of the season for Hendrick Motorsports before he watched as teammate William Byron spun out due to problems with his tires. It was only this past Wednesday at Darlington Raceway that Elliot lost another chance at a victory after Kyle Busch caused him to crash. Speaking about his disappointment, Elliot said,
"I was a lap-and-a-half away from winning the 600. This week has been pretty unfortunate, we have had some tough losses."
After watching his win disappear due to the caution and the decision to pit, Keselowski stayed out with seven other cars and took over the lead. As the race went green, Keselowski was able to get into clean air and keep Johnson at bay. Commenting, Keselowski said,
"I feel like I have thrown this race away a handful of times and I thought we were going to lose it today. I have lost it the way Chase lost it and it really stinks. And today we finally won it that way."