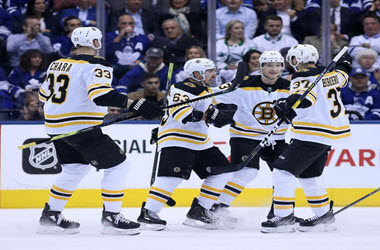 The Boston Bruins went into Game 4 of their series against the Toronto Maple Leafs behind 2-1, and with the Maple Leafs on home ice, the opportunity to fall behind 3-1 and face elimination lurked in the rafters. Yet, as the final buzzer sounded, it was the Bruins celebrating and remaining in contention.
The heavy hitting Boston Bruins took little time in getting a leg up over the Leafs scoring their first goal at 16"57 in the first period and three minutes later, went up 2-0 putting Toronto on notice that they were there to win.
The Toronto Maple Leafs responded late in the first to reduce the lead to 2-1, and early into the second tied the game with a two-on-two play that resulted in Auston Matthews getting the puck past Rask. However, Boston seemed destined not to let the loss of a two goal lead impact their game and quickly responded and once again took the lead, only this time they didn't give it up scoring two more before the final buzzer sounded.
The 6-4 loss for Toronto saw their one game lead in the series evaporated and there is no one to blame but themselves as they clearly allowed the Bruins to dominate and take control. The series now returns to Boston for Game 5 on Friday and for sports pundits looking to place bets in the series will enjoy the opportunity to maximise their odds by placing bets with respected sportsbooks such as Bet365, a leader in the sports betting market. John Tavares feels they simply made too many mistakes last night and did not have the best start but did give themselves some good chances. He added,
"We just have to do a better job once we got ourselves back in it, locking it down and generate chances. At the end of the day, the W is what matters most, so we look forward to bouncing back."
Sportsnet
After suffering a one goal loss in Game 3, Boston was hoping to change things up with changes to its top line with David Pastrak and Danton Heinen switching places, and it seemed to work and then some. The big guns for Boston, Brad Marchand, David Pastrak and Patrice Bergeron have failed to have the impact needed, and that led to Coach Cassidy to decision to make some adjustments.
After only earning two points in the first few games of the series, at the end of Game 4, Marchand and Pastrnak had earned four points, and all three now sit with three or more points in the series. On the flip side, the top line for Toronto (Mitch Marner, John Tavares, Zach Hyman) had a combined total of three points scoring one goal and racking up two assists.
Mike Babcock, head coach for the Maple Leafs commented on what took place on the ice stating he felt it was more about what the Maple Leafs did not do versus what Boston did. Babcock added,
"I thought we were set up good for that [change], to be honest with you. I didn't think I was concerned about that one bit," he said. "I thought our matchups were fine. That, to me, wasn't it. We just made some mistakes. We pinched when we shouldn't have, we gave up some opportunities we didn't need to give up that we haven't been doing [previously]."
The line changes for Boston paid off early with Charlie McAvoy scoring the opening goal in just under three minutes of the first period while on a power play. That was followed by the Bergeron line going to work and scoring three minutes later. The Maple Leafs failed in two power plays before finally get the puck into the net to reduce the gap. Raak seemed a bit off in trying to close the door to the Matthews goal, and that was not missed by Matthews, who commented,
"That was the message in our locker room, just keep battling and find a way," Matthews said. "There's no quit in this locker room. We gave ourselves a chance, just not enough."