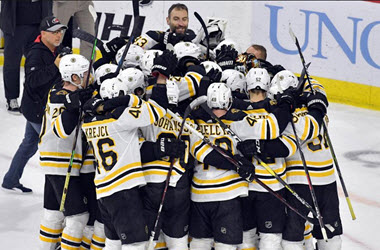 The Carolina Hurricanes knew they were in trouble going into Game 4 on Friday and it was either win or watch the dream of going to the finals disappear.
As the puck dropped in the opening period, it quickly became evident Boston was on a mission to end that dream before the final buzzer sounded. The success of the Bruins cannot be denied, like them or not, and it was Zdeno Chara who was first in line shaking hands with the Carolina Hurricanes, even though he did not play a single game, a first since 2011.
After 21 seasons in the NHL, Chara has earned respect, and that was shared by Carolina coach Rod Brind'Amour who told Chara he has the utmost respect for him and closed with you can't keep doing this.
Most didn't think Boston could pull it off again this post-season. They failed to make the post-season in 2017 and 2017, but the core players came together and made it happen, and in a league that goes at warp-speed, it is a crowning achievement that can take its toll. Commenting Patrice Bergeron said,
"The core group, we've been through a lot, Ups and downs."
Sportsnet
This year's finals will be Boston's third in nine years and their tenth overall. The only other team to have gone to the finals more is the Montreal Canadiens, who have played eleven. Boston is hoping to win their third, and if they do, it will be a hat trick for the City of Boston who watched in delight as the Red Sox's won the World Series and the New England Patriots won the Super Bowl this year. For punters, the odds are looking in favour of Boston to push through and hoist the cup, and with lucrative promotions being offers be sportsbooks such as Bet365, the timing couldn't be better.
Chara and his teammates all shared in the joy of the Prince of Wales Trophy being awarded to them but as they did in previous years, refused to lay hands on it for fear it would bring bad luck. Commenting on the occasion, head coach Bruce Cassidy said,
"A lot of different emotions go into it. "I'm proud of the guys, especially the way that they played today. We've earned the right to be where we are, to go to the Stanley Cup Final. We beat three good teams."
The difference between the two styles of the Bruins and Hurricanes is what ultimately led to Carolina failing it its bid. Boston seemed to improve as the playoffs went along whereas the Hurricanes seemed to falter. The fact that Boston wrapped the series in four games will give them a much needed break to re-energise before Game 1 of the Stanley Cup finals and whoever they play, whether it is San Jose or St. Louis, the battle looming will be a big one. However, Boston says they are ready, and from all accounts, Chara will be as well. Commenting on the pending series, David Backes said,
"You hope you can have fully charged batteries heading into the Final. That's all you can really ask for."
This has been a season of upsets with all four top teams in the regular season all dropping in the first round. The Boston Bruins seemed to be schooling Carolina outmatching them in every game and every area of the ice. They were successful in seven of the fifteen power plays they saw, whereas Carolina managed success in only one of their fourteen. When you add it to the skill of Tuukka Rask, who only gave up five goals in the four game, there is little doubt Boston is ready for what will come their way. Commenting on the Rask's performance and the saves he pulled off, Charlie McAvoy said,
"I don't even have words for it, They're getting Grade A's and he's just standing up in the slot seeing them right into his glove. I sat on the bench tonight and I would just shake my head with how easy he made it look."
For David Backes, it will be his first Stanley Cup and one he has waited and dreamed of for a long time. Backes was on the outside when he joined Boston's elite, those being Marchand, Bergeron and Pastrnak, a trio who scored almost half of all goals for the Bruins in the post-season. Commenting, Backes said,
"It's been an excellent evolution to be part of, to see the growth, to see them bring guys along and say 'You're a huge part of this'. Guys that stepped in at the deadline, Charlie Coyle and Marcus Johansson that we made feel right at home. Guys that have been healthy scratches or injured step right back in. Those types of contributions are not by accident. It's because we care about each other, include each other, and don't forget each other when we're out [away from the rink]."