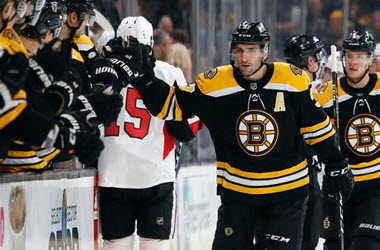 The Boston Bruins arrived in the Nation's capital on Monday for the Senators home opener, and for Patrice Bergeron, who was absent for the majority of training back due to a groin injury in the off-season and back spasms, it seems it did little to slow him down.
It took all but thirty seconds for the Ottawa Senators to feel Bergeron's presence as he scored his first goal of the regular season and began a game that was to end with the 6-3 and denying the Sen's a home opener win. The Bruins know the feeling after their home opener resulted in a 7-0 loss to the Washington Capitals. Tuukka Rask had 28 saves for the night and earned his first win for the season.
Brad Marchand has three assists for the night increasing his regular season total to seven. Speaking on Bergeron, who is his linemate, Marchand said,
"He's impressive. He's a competitor. He wants to be the best player on the ice every night."
Also scoring for Boston was David Pastrnak who scored twice and earned two assists, Bergeron had three goals for the night, and one assist and Chris Wagner scored once. Charlie McAvoy earned three assists.
Ryan Dzingel scored twice for Ottawa, Bobby Ryan scored once, and Bryan DeMelo earned two assists. Also earning an assist for Ottawa was Zack Smith, Mark Sloane and Chris Tierney. Mike Cordon had twenty-four saves for the night.
Sportsnet
Bruins coach Bruce Cassidy commented on the night when referencing Zack Smith, Mark Sloane and Chris Tierney said,
"Those are momentum builders. That makes a difference if they get a goal get back into it."
Tuukka Rask had a rough start at the home opener last week for Boston getting pulled and replaced by Jaroslav Halak after letting in five goals in less then 30 minutes. Rask did earn a win earlier in the week in the Bruins game against Buffalo.
Monday's game gave Rask an advantage after Bergeron put the Bruins ahead 1-0 when he picked up a rebound and scored during the first minute of play. Boston also scored with three minutes left in the first to put them ahead 2-0.
After the close of the second period. Ottawa has rebounded to close the gap to within one. Bergeron scored his second of the game after his shot ricocheted off the knee of Cody Ceci. Pastrnak made it 5-2 with less than four minutes left to go and then Bobby Ryan added the Bruins sixth of the night less than 30 seconds later.
The Boston Bruins now have a few days off and then will play host to the Edmonton Oilers and the Ottawa Senator fans will be playing host to the Philadelphia Flyers, on Thursday. Punters itching to place bets in favour of Boston or Ottawa will find some excellent signup bonuses with our list of respected hockey sports betting sites that accept Canadian punters. One such site we recommend is Betway Sport, and with a bonus ready for the taking up to $200, now is a prime time to take them up on this offer.