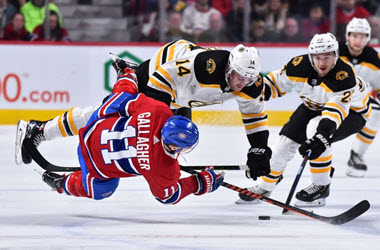 The Montreal Canadiens dropped the ball last night in their feeble attempt against the Boston Bruins, and for Gary Price, it was a night he would rather forget after a performance that was uninspiring, to say the least.
Few excuses can be made after last night, especially by Carey Price after the Boston Bruins swept the Montreal Canadiens 4-0, and it hurt that much more after the stellar performance by ex-Canadien Jaroslav Halak.
Boston's win saw them earn the first Eastern Conference wild card spot. Carey Price made 31 saves for the night but failed to earn a milestone 300th career win in the NHL. Price commented in post-game interviews with local media that,
"I don't think there's a whole lot that needs to be said," There's no excuse for that. It was a perfect opportunity to get a big win for our team, but we're going to have to park that one real quick."
While much of the blame focused around Price, it was the rest of the team that failed across the board after turning over the puck 24 times, only sent 22 shots on goal and their power play resulted in 0-3. This season has been fraught with disappointment after disappointment as the Canadiens sit in the middle of the pack and have failed to produce power play results in their last nine games. Montreal's captain, Shea Weber stated he felt they were not good on the ice anywhere last night, adding,
""There's no excuse for that. We're letting each other down. Guys have to look at each other in here and know that we all have to be better for each other."
Sportsnet
The fact was, Montreal appeared sloppy during the opening period and gave up the puck eleven times in just over seven minutes. The Bruins capitalized on that scoring the first of four after only two minutes and 21 seconds after Michael Chaput gave up the puck in the Canadiens own zone. That saw Joakim Nordstrom take control of the puck and putting it past the pads of Carey Price.
Colby Cave earned his first NHL goal late in the second period giving the Bruins a 2-0 lead. Cave was playing in his sixteenth NHL career and found himself alone in front of the net while the Bruins and Canadiens were each down a man due to penalties. As a reward, David Pastrnak picked up the puck for Cave as a memento. Cave stated he will add the puck to his trophy cabinet, commented on his first goal stating,
"It feels really good, especially in a winning effort. We played an unreal game as a team tonight. We rolled four lines, all three defensive pairings played good and Jaro was a brick wall back there. A recipe for success."
Boston was coming off a loss to the Buffalo Sabres on Sunday and need the win to earn the first wildcard spot. The Bruins maintained pressure through to the third period and needed less than a minute to make it 3-0 after David Krejci slipped one past Price to earn his sixth goal of the season and extend his back-to-back point streak seven games.
Brad Marchand added one to his season total at the 5:06 mark while on a power play, and with it, brought an end to Montreal fans hopes of a possible come back. Halak was exceptional in net last night and earned a shutout for his efforts. Speaking to the media post-game, Halak stated,
"It's always nice to get a shutout. From the drop of the puck, we played pretty good. For sixty minutes, we didn't give them much. It was a team effort from top to bottom."
The Montreal Canadiens will next meet the Colorado Avalanche, who are sitting in third place in the Western Division, on Wednesday before heading to Arizona on Thursday to face the Arizona Coyotes. Considering Montreal's current situation, it is safe to suggest that oddsmakers will favor the Avalanche, and for fans, that means increased opportunities with top-rated sportsbooks such as bet365, a highly recommended betting.ca approved site. Register today and qualify for up to $200 in new player bonuses!