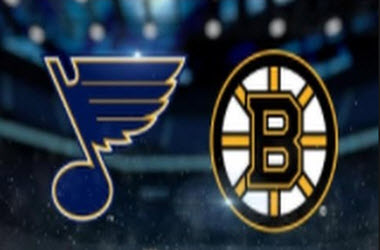 The Stanley Cup finals are set to start in the coming days and with it, will decide the fate of the Boston Bruins and St. Louis Blues. One has won multiple Cups, and the other has won in 49 years.
This is set to be a battle that many anticipate will go six games, if not the full seven. That is due to both teams being near identical in talent and their ability to maintaining pressure in the opposing teams' offensive zone. They both have top-notch goalies and power within their lineups, and that puts them on equal footings, one not easy to call.
While some lean towards the Boston Bruins, mostly due to the bully style of play Marchand, Bergeron and David Pastrnak favour, it is the Blues ability to counter it that most likely will shut it down. Bruce Cassidy, coach of the Boston Bruins recently commented during the Stanley Cup media day that,
"I see two teams that play good team defense, that don't give you a lot of room and protect the slot well, Responsible, don't take a lot of penalties. They are physical, we'll be physical. We like to play a blend, I'm sure they'd say the same thing. … They are bigger than us on the back end, but I think both teams move the puck well and I think both teams create problems for the other to get inside. That's why we're still playing."
Boston and St. Louis are equal in goals scored during the playoffs this season. They both have scored sixteen during the first and second periods and twenty-four in the third period for a collective 57 apiece. That is information well worth considering for punters placing bets with leading sportsbooks such as Bet365 on individual game outcomes and overall for the series.
What needs to be considered is each's line scoring abilities. St. Louis' 4th line of Ivan Barbashev, Oskar Sundqvist and Alexander Steen have scored eight goals and nine assists. While Boston's 4th line of Joakim Nordstrom, Noel Acciari and Sean Kuraly have seven goals and six assists. When looking at their top lines, Boston's has 22 goals, while the St. Louis Blues also have 22 and that puts them equal.
The same is true with respect to their goaltending. There is little doubt that Tuukka Rask is one of the best in the playoffs this season. He has a 1.84 goals-against average in 17 starts, and a save percentage of .942. Jordan Binnington, who with less experience than Rask has had 19 starts and has a .236 goals-against average and a save percentage of .914 in 19 games.
Boston and St. Louis also each have a Selke Trophy finalist on the team. The Selke Trophy is awarded to the forward who excels best in defensive aspects Boston's Bergeron has won it four times, and St. Louis's Ryan O'Reilly received his first nomination. Coach of the ST. Louis Blues, Craig Berube commenting on his team and Boston that,
"Both teams want to really get on the forecheck, be physical, be a hard team to play against, they're extremely hard to play against, they battle, they play hard, their centermen play 200-foot games like ours do."
The main difference in the series will come down to experience. Boston has nine players who have already gone the distance and won a Stanley Cup Final. This includes Tuukka Rask, Brad Marchand, David Bergeron, David Krejci, John Moore, Torey Krug played and Zdeno Chara. However, the Blues only have one with experience in the finals, and that is David Perron. Commenting on the difference, Bruce Cassidy said,
"I just believe that our guys that have been there, that have won a Cup, have lost a Cup, that should give us an edge. Some people disagree with that once you're here, but I believe it will give us an edge."
However, St. Louis captain Alex Pietrangelo disagrees with that statement. He commented that many have playoff experience, albeit not in the Stanley Cups Finals. Commenting, he said,
"Most of us have played in a championship game, Memorial Cup, Olympics, World Cup, whatever it is. Our experience is getting to this point. We just keep finding ways to win and you gain experience and learn from that."
The bottom line is this is a series that is hard to call, and only will be determined once it gets underway. It is expected to be a back-n-forth series, with neither team going leading by more than one game.