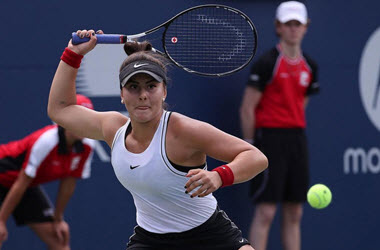 Bianca Andreescu has her sights set on advancing in the U.S. Open, and she is off to a good start having won her first round match against Katie Volynets on Tuesday.
Andreescu defeated Katie Volynets 6-2, 6-4 and will next face the winner between Xiyu Wang and Kirsten Flipkens. This was Andreescu's first match since the Rogers Cup, which she won earlier in the month. Seeded 15th, the Mississauga native managed to succeed in breaking  Volynets four out of eight times and recorded an 81% success rate in her first serve. While Bianca Andreescu has 32 unforced errors, Volynets failed to covert opportunities doing so only five times.
In other U.S. Open news, Canadian Felix Auger-Aliassime will take to the court against Denis Shapovalov in the evening, and for the second time in successive years, the two will play against each other in the first round. Also playing on Tuesday evening is Vasek Pospisil, who will face Russia's Karen Khachanov, while Brayden Schnur will take on Benoit Paire.
In women's tennis, Serena Williams played her first match since retiring from the Rogers Cup finals and was successful in defeating Maria Sharapova 6-1, 6-1 in what was nearly perfect tennis and void of any on-court drama.
U.S. Open
Williams faced a break point early in the second set but fired back a blistering backhand that Maria Sharapova could not touch due to being unable to reach it. This was her 19th straight match against Sharapova that she has won. In post-match media interviews, Williams said,
"Every time I come up against her. I just bring out some of my best tennis."
The match between Williams and Sharapova lasted a minute shy of an hour. It saw Williams winning twice the points that Sharapova did, and each time she faced a break point, Williams's persevered. With serves as fast as 115 mph, few on the circuit could have prevented Williams from winning. Her serve was on point, as were her shots to the deep court.
Sharapova, who has not played much this season due to a shoulder injury that required surgery, made the match look like a showdown only seen in a final. The two have faced off in three Grand Slam tournaments in the past, but not during the U.S. Open.
Williams has racked up an impressive six titles at the U.S. Open and when she arrived at Flushing Meadows, was faced with questions about her back spasms that resulted in her retiring from the finals at the Rogers Cup. Commenting, Williams said,
"The body's good. I feel good. My back's a lot better. So I'm excited. This is going to be fun."
It was only a year ago that Williams lost the U.S. Open finals to Naomi Osaka in back-to-back sets. That match saw drama between Williams and chair umpire Carlos Ramos, and when asked how she felt about Carlos Ramos being barred from acting as an umpire during any matches that involved her or her sister, Williams replied she had no idea who that was in a somewhat childlike tone.
It is unknown who Williams will face in the second round, but punters can be sure the hunger has returned based on her play today. Few doubt she has the ability to go the distance and win her seventh U.S. Open title, and with sportsbooks such as bet365 offers odds in her favour, the time to place bets is now.