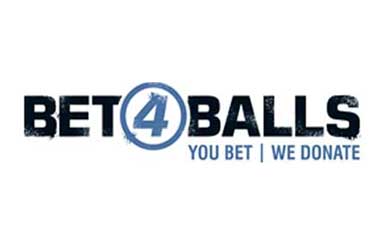 We are very pleased to introduce you to a brand new type of betting site, which is being promoted by various online and land based betting sites, the reasons why betting sites such as BetFair, BetFred and Paddy Power have chosen to link up and promote this new betting site is that it is a charitable betting site that is going to be raising money for prostate cancer charities.
This website is quite unique as you will not actually be betting directly on the site, the idea is that by joining up to one of their partner sites at which you do not hold an account at you will then be helping support prostate cancer charities.
For every betting site you join up to and place a 5.00 wager at as a new customer of that respective site the betting site will immediately donate 5.00 to the Bet4Balls site which is then fed to the prostate cancer charities, it doesn't matter whether your 5.00 wager wins or loses the betting sites will still donate that fiver to the charity!
However several of the betting sites have chosen to donate more than a fiver to the charity and as such Coral will donate 15.00 when you open an account with them through the Bte4Ball website and the Winner site, Boyle Sports and Paddy Power will all donate 10.00 to the charity when you open an account and place a wager via their website.
Unibet and BetFred will both donate 10.00 when you open a betting account at through the Bte4Balls website and Tote Sport and BetFair will each donate 5.00. This is a great way to give to charity when you are simply placing sport wagers online and you could donate quite a sizeable sum of money to prostate cancer charities via this method without you directly donating to them.
For more information on how the Bet4Ball website works and operate please visit their website for a complete step by step type of guide that should enlighten you on how to help the prostate charities simply by placing a wager at any of their partner betting sites, this really is a good cause and with thousands of people being diagnosed with this form of cancer each month then it really is a cause you should consider helping out, making a donation in this unique way will not affect your ability to claim a new customer bonus as any of the partner betting sites!