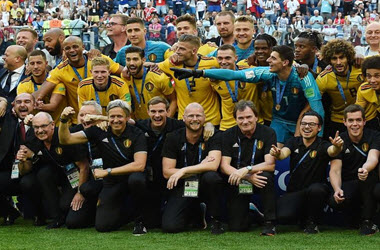 As England and Belgium took to the field after opening ceremonies, the two teams left viewers with the impression that the next World Cup will be about going to the finals and not settling for third place, or for one, fourth place.
After all was said and done, it was Belgium that came away with the win over England, much to the disappointment of British fans who had watched their team miss out on the opportunity to go to the finals and bring home the championship.
Thomas Meunier scored the first goal for Belgium Eden Hazard, who scored their second goal, it was all about having the right mentality,
"With this winning mentality you can win trophies," "In two years, in four years, we will be better. We have young players. They are very good also in the team. They push all of us."
The finals will be played on Sunday in Moscow, a culmination of 4 weeks of play that saw upsets from the likes of Germany and Brazil, but also saw others such as Russia making it to the quarter-finals. It was Croatia that brought an end to England's hopes of going to the finals, whose best finish was fourth in 1990, and match
Speaking on the last two losses, and ultimate fourth-place finish, England's captain, Harry Kane said,
""Today shows there's room for improvement. We're not the finished article. We're still learning. We're still getting better, we don't want to wait another 20-odd years to get into another major semifinal."
With an extra days rest over England, it seemed the day off helped give the Belgians the edge they needed. That or they just got lucky and were able to capitalise on the opportunities that were presented to them – they may also have wanted it more.
Eden Hazard makes it 2-0 against England as @BelRedDevils take bronze at Russia 2018 🥉

👀 TV listings 👉 https://t.co/xliHcxWvEO
📺 Highlights 👉 https://t.co/LOdKDX2Cwn #WorldCup pic.twitter.com/Rxo21DQiRU

— FIFA World Cup (@FIFAWorldCup) July 14, 2018
Belgium saw ten of its players scoring in this year's tournament, a record for the nation and not seen since by another nation since 2006 when Italy achieved that distinction. It took Belgium only four minutes to get their first goal when Meunier sent a cross shot past Jordan Pickford. Hazards goal came at the 82nd minute mark sending it between the posts.
Before this year's finish, Belgium's best World Cup performance was fourth. They outplayed England from start to finish in what looked like England had lost its steam after playing seven games in the last 26 days. Belgium had multiple other scoring opportunities, but Pickford was brilliant in the net and stopping shots from Alderweireld and De Bruyne.
While England had scoring chances from Kane and Dier, they simply were unable to get the job done being blocked time after time by Belgium's defenders. Belgium also defeated England during the group stage 1-0, so the loss was one that the U.K team had hoped to revenge.
As the finals take center stage today, all eyes will be on Croatia and France. While France is favoured to win, many ex-pat Croatians in Canada will be eager to support their home nation. If you are looking to place your bets, why not consider one of our recommended top online sportsbooks that are Canadian friendly. Each has solid promotions in place, both for new players and those looking for special World Cup promotions.