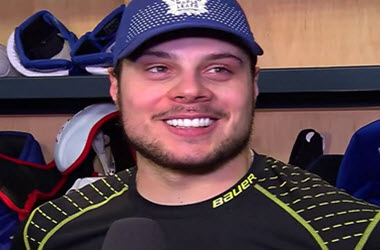 The Maple Leafs hit the ice with a buzz of excitement in the air for practice on Thursday at the MasterCard Centre in preparation for Friday night's game against the Columbus Blue Jackets.
Moments before practice it was announced that Auston Matthews had been voted by fans as the Atlantic Division captain for the NHL All-Star Game next month in San Jose. Matthews commented that it is a big honour to receive from fans adding,
"To be selected to compete in the All-Star Game is a huge honour and to be a captain of the division, it's pretty special. The fanbase we have and how passionate these people are about us, it's really special."
This is the third time back-to-back that Matthews has appeared in the Atlantic Division All Stars team and his first as captain. Matthews, at only 21, is one of the league's best players and to date, this season, even after missing 14 games due to an injury, has scored 19 goals and earned 23 assist. He sits in fifth overall in the league for the best point-per-game average.
Before hitting the ice for practice, Matthews spoke to the media stating,
"It means a lot. I'm really grateful to play in a market like Toronto that has such passionate fans that go out of their way to go out and vote for you and do that stuff. It definitely means a lot to me as a player and a person being a part of Toronto."
NHL National Hockey League
Mike Babcock, coach of the Maple Leafs also commented saying.
"He's at that time in his career where there's a lot of notoriety right now. He's exciting and it's exciting for our franchise. It's a real compliment to him from the fans and you always want to be good to the fans and they'll be good to you."
The fact the Matthews sat at the top of the voter list is a testament to his popularity, but also his skills. The balance of the team will now be chosen by the NHL's operation department. However Matthews choosing was of little surprise to fellow Maple Leaf Morgan Reilly who stated,
"One of the best players in the world, so shocker. He's a great player, it's well-deserved."
Matthews felt Reilly was deserving of being nominated for the All-Star game and included Frederik Andersen and Mitch Marner as others who are deserving. Matthews stated that if he could select any of his teammates to join him on the team, it would be Patrick Marleau, as he is originally from San Jose. Matthews added,
"I'd take him back to San Jose, and probably stay at his house there and the whole nine yards, that'd be pretty nice."
Marleau, who played with the San Jose Sharks before joining the Maple Leafs joked that he does need to be part of the game for Matthews to have the keys adding,
"I said he could have the keys and go stay there. I don't know if he's going to throw a party or not, but…"
The NHL has not yet announced the rest of those who will be selected for the All-Star team but for Leafs fan, it is already a win with Matthews taking the captains role.