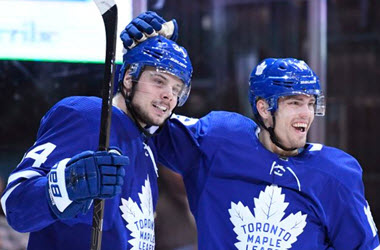 The return of Austin Matthews to the Maple Leafs lineup was a welcome relief on Wednesday for star forward, his first in more than a month and it could not have gone better if he planned it himself.
Matthews, who suffered an injury to his shoulder late October and was on the injured list for 14 games, scored two goals last night and earned an assist against the Sharks and helped lead the Maple Leafs to a 5-3 victory.
While Matthews looked comfortable back on the ice, it wasn't quite as it seemed as the forward said at the beginning he felt terrible adding,
"The first period, you just kind of have that energy, the emotions. By the third period, I kind of got my legs under me, was kind of skating a bit more. But I think that's expected with the first game back, it's tough to get into game shape just in practice. You play games and that's how you get that back."
Last night was the third straight win for the Toronto Maple Leafs, and that put them in a tie for first with Buffalo in the NHL standings, a welcomed sight for Leafs fans. It took Austin Matthews only four minutes to earn his first assist last night, and midway through the first period, with the Leafs on a power play, he scored his first goal. He almost scored a second in the first after outmanoeuvring San Jose's Erik Karlsson and going alone against goaltender Aaron Dell but lost control off the puck before he could take a shot.
SportsNet
As the final minutes ticked down, Matthews scored his second of the night to give Toronto a 5-3 lead and bring an end to San Jose's hopes of a tie and overtime. Last night was the first time Matthews had Andreas Johnsson as his wing man and it seems Matthews was pleased by how the two performed stating,
"You look up and down our lineup, you're going to play with guys who are skilled, work hard, can make plays, finish chances. Johnny is a speedy guy, he's skilled, he sees the play, his tenacity is high. Kappy and I are pretty familiar with each other. As we continue to play together we'll just get better and better."
Matthews has been consistent when returning from an injury, and the three injuries he had last year, each return resulted in Matthews scoring upon his return. Last night's game, however, saw him earning three points, but as far as Matthews is concerned, that was just coincidence.
Matthews still remains second in the NHL point's race, with only Mikko Rantanen of Colorado having more points than Matthews, however, at the tender age of 21, he became only the sixth player since 2005 to have eight multi-point games in the first 12 games they played in a season. John Tavares is well aware of the skill Matthews possess and stated it is not a secret. He added,
"You can see what makes him a special player. When you're around guys like him with his talent and his drive, he drives the team, drives people individually so it's fun to play with."
While both Matthews has big nights, they were not the only ones as Mitch Marner also earned three assists, his second consecutive night doing so and that caused Tavares to reflect on how the Leafs forwards have surpassed expectations.
"They're probably better than I thought. They're just extremely talented hockey players and you can see how badly they want to be great. Just being around it every day, you understand and you learn more and more why they're special players and why they still have so much more room to grow."
The teams performance, and Matthews, in particular, has not gone unnoticed by Coach Mike Babcock either, who stayed that,
"Your first couple of games [back], you get yourself going. I don't know if Matthews is going to go this way for a bit or if he can maintain it, but obviously, he's a real talented guy, a big guy, a smart guy. He was good for us."
Toronto will host the Minnesota Wild on Saturday before heading to Buffalo for a Tuesday night game. Interested in getting in on the action, then why not register today with one of our featured and trusted Canadian friendly sportsbooks, with generous signup bonuses on the table, the opportunities are endless.