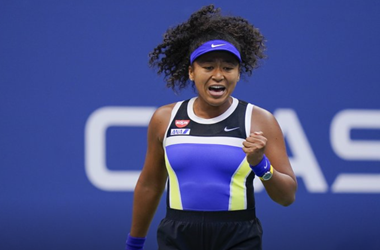 The Associated Press announced on Sunday that is has named Naomi Osaka as its Female Athlete of the Year. Osaka received the honours after the AP's sports editors, and beat writes voted in her favour recognizing her on court performance as well as her activism outside of tennis.
During the shutdown, Naomi Osaka, like many in the world, stopped to pause and thing. That saw her using her voice to bring attention to a number of causes after winning the U.S. Open. Osaka, who is of Japanese-American descent, spoke publicly about police brutality, racial injustice, poverty, mental health and other topics relating to the pandemic's effects.
Responding to an email interview, Osaka mentioned the impact she felt being isolated from her family and the impact of watching COVID-19 unfold. In response, Osaka wrote:
"It was difficult to be isolated from my family for large parts of the year, but that's nothing compared to others. It was sad to watch and read the news of people suffering from COVID-19, and the economic and social effect on so many — losing jobs, mental health. It was such a tough year for so many people, and then watching the police injustices like George Floyd, Breonna Taylor and Jacob Blake (to name just a few) in the summer broke my heart. I am proud of my U.S. Open victory, but more so that I got people talking about the real issues."
During the vote, Naomi Osaka was award eighteen first-place votes and a combined total of 71 points. A close second to Osaka was the National Basketball Association Breanna Stewart with 60 points and Vanderbilt's Sarah Fuller with 24 points.
Former tennis star, Billie Jean King, who won 12 Grand Slam singles titles in her career, spoke highly of Osaka for standing up for and advocating change in our society and working towards being a leader in tennis Commenting, King stated:
"She successfully completed the difficult task of taking excellence in sports performance and using that platform to succeed outside of sports on a much bigger stage. She ignited a conversation on social justice, the results of which were bigger than tennis, larger than sports, and in doing so raised the bar for all those who want to leverage the gifts and talents we have to make a difference in our world."
During the shortened season, one that saw Wimbledon being cancelled, Osaka won the U.S. Open and finished the season with a No. 3 world ranking. The season also saw Osaka going eleven matches without a loss and one that saw the star athlete refusing to play the semifinals during a New York tuneup tournament in protest of the Blake police shooting. Commenting on her decision, Osaka stated:
"There are clearly so many worthy issues. This one especially resonated with me because of my own personal up-bringing; and also while the tennis tour was paused, I was able to watch and read news at length for the first time in my life. This summer in the U.S., tensions were high and reached boiling point. It was the right time for me to speak up."
The decision by Osaka brought attention to the tragedy and caused Steve Simon, the Chairman and CEO of the WTA, to shut down the tuneup tournament for a day. Speaking on his discussion and Osaka's activism, Simon said,
"Her activism has shone a light on how we as individuals and sports leagues can collectively make an impact. Not only is she a phenomenal tennis player, but she also demonstrates how athletes have an opportunity to use their platform for something bigger than the game or themselves. Her actions are nothing short of inspiring and she is so very deserving of this recognition."
Osaka also used the U.S. Open to bring attention to black victims who have experienced violence by appearing with a face mask with the names of Philando Castile, Ahmaud Arbery, Trayvon Martin, Elijah McClain, Tamir Rice, Floyd and Taylor. Osaka stated that she didn't consider what people would think of her actions, adding that,
"Other people's opinions weren't going to stop me from doing what I know in my heart was the right thing to do. The strong voices of Colin (Kaepernick) and LeBron were certainly positive influences for me and gave me strength in my own convictions."
For Osaka, her attention will, as will it be for tennis punters, focused towards the 2021 season that gets underway in January for the Abu Dhabi WTA Women's Tennis. A prelim to the Melbourne Open, it is perfect for punters looking to place bets in advance of the season's starts. As for Naomi Osaka, and the year ahead, she stated,
"I am looking forward most to being with the athletes that had waited and trained for over 10 years, for celebrating a very hard year (2020), and having that happen in Japan makes it that much more special. It's a special and beautiful country filled with culture, history and beauty. I cannot be more excited."