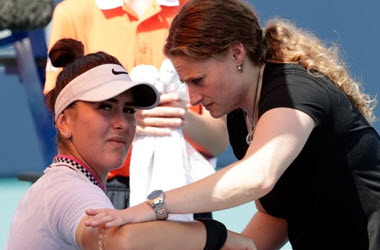 Bianca Andreescu's run on the Women's Tennis tour came to an end today after aggravating an existing shoulder injury. The Canadian star was getting treatment on throughout the first three rounds but seemed to be unsuccessful in combating the injury.
Andreescu, a rising star in the sport of tennis had been on a 10 match winning streak until forfeiting to Estonia's Anett Kontaveit in the fourth round on Monday. The Mississauga native, 18 years old, experienced increased discomfort throughout the fourth round finally exiting early in the second set. Commenting on the injury during a post-match interview, Andreescu said,
"I tried to get as much treatment as I can," Andreescu — who described her shoulder as feeling tight. I thought it would be OK, but obviously it just got worse as the match progressed."
The match was her 35th of the season and fatigue began to show early in the first set. That fatigue saw Bianca Andreescu losing her first set of the Miami Open, and to date this year, she has only lost four and is sitting at 31-4. Her success has seen her ranking increased from 152 to 24. Andreescu, who has been advised the injury is not serious, further stated,
"I have played so many matches, I guess this is just a way of my body telling me that it's had enough. It's disappointing, but it's part of the sport."
WTA
The match had to be halted due to rain shortly into the first set. When the game commenced, Andreescu had the advantage of serving but double faulted. She then gave up another point to Kontaveit losing a 2-0 lead.
After losing the next two games, Andreescu requested a visit from Sylvain Bruneau, her coach. Video showed her out of breath letting her coach do most of the talking. Andreescu, who won the BNP Paribas Open this year then requested a trainer take a look at her shoulder. This took place at the completion of the first set before she elected to retire two games into the second.
Angelique Kerber, who Andreescu defeated in the third round and lost to the Canadian in the final at the BNP Paribas Open in Indian Wells, called her the "biggest drama queen ever". These comments came after her loss and were posted on her Twitter account. The result saw Kerber facing criticism over her post-match social media comments.
In previous matches, Andreescu has won four of the five matches that she faced Kontaveit. Andreescu, in speaking of her recent success stated,
"It's been an incredible run, a Cinderella story, like a lot of you guys said. It's a dream come true, so I'm really pleased."
Anett Kontaveit, ranked 19th, has played half the matches this year that Andreescu has. After the second set retirement, she commented that,
"I didn't think she was going to end the match earlier, but she's had so many matches and I'm sure she's fatigued. So, yeah, you know, she's had such a great run, and I give her a lot of respect for that."
As for next week's tournament in Charleston, S.C, Andreescu said she will sit that one out but plans to for Canada in the Fed Cup in April in the Czech Republic. While the retirement was not favourable for the young player, her previous record speaks volumes and will see her receiving favourable odds with sportsbooks offering action on the WTA. Registering today with Bet365 and receive up to $200 in signup bonuses.