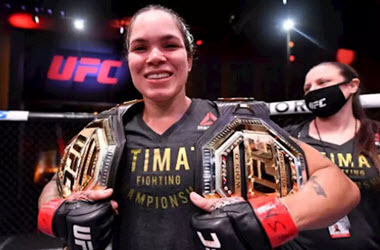 Amanda Nunes has cemented herself as one of the best female fighters in UFC history after her unanimous decision win over Canadian Felicia Spencer on Saturday night during UFC 250. Nunes was also the first fighter in UFC history to hold two titles while defending a championship belt.
Last night was the second UFC event to take place since returning to action after the coronavirus pandemic brought a screeching halt to sporting events worldwide. With no fans and only a limited number of trainers, medical staff and assistants in attendance, UFC 250 was the second event to be held at the UFC's Apex gym.
The main difference for fighters was the difference in the octagon's diameter being five meters smaller than the traditional diameter of 30 meters. The different saw some superb finishes, including one that saw several knockouts.
Nunes, who is 20-4, holds championship belts in both the bantamweight and featherweight divisions, is considered the greatest mixed martial arts female fighter in history. Her last fight against Germaine De Randamie gave her a run for the money, but against Felicia Spencer, there seemed to be little challenges for Amanda Nunes after she delivered punch after punch to the Canadians face.
ESPN
The speed of Nunes was more than Spencer could handle and her striking power was evident right from the start after Nunes connected a shot in the third round that saw Spencer's mouthpiece go flying. By the 4th round, Spencer was showing a hematoma on her forehead, and from thereon, Nunes simply held her ground delivering blow after blow to defend her title. This was the first time Nunes defended her title after her December 2015 win against Cris "Cyborg" Justino in December 2018. However, she has defended her bantamweight belt five times and won each fight.
Cory Garbrandt finally managed to earn a win against Raphael Assunção after losing his last three fights. Garbrandt managed to deliver a solid right cross that connected with Assunção knocking out the Brazilian in the second round. This was his first since his win over Dominick Cruz in 2016.
The night started with Sean O'Malley (12-0) taking on veteran MMA fighter Eddie Wineland. O'Malley took less than two minutes to bring an end to the fighter after delivering a brutal punch to the jaw of Wineland. That saw Wineland knocked out and left sprawled across the octagon on his back. Commenting on the punch that brought an end to the bout, O'Malley said,
"When you're as fast and accurate as I am, I'm gonna land first and I'm going to land early, and I landed on the button."
The night's action was far from over with Aljamain Sterling rendering a vicious chokehold that saw Cory Sandhagen tapping out before going unconscious. Sterling, who has not lost in his last five fights, got to work early into the opening round locking Sandhagen in a deep choke and full body triangle. Sterling will now go on to fight for the bantamweight title. In the Light heavyweight division, Devin Clark earned a unanimous-decision victory over Alonzo Menifield, his first loss. The win was an emotional one for Clark who invested time while last weekend while in Albuquerque to help with cleanup efforts relating to the protests. After the bout, Sterling took time to comment on the upheaval in America stating,
"The world is in shambles right now, especially America. We've got a lot going on in this country. It's a great country, but there's a lot of things that need to be changed, especially the injustices happening to minorities all across America. This one is for everybody back home fighting the good fight, protesting. I support you guys. I'm with you guys all the way."
The UFC has announced going forward its intention to hold almost weekly shows, including those Dana White, mentioned relating to his intention to stage on a private island. Dubbed "Fight Island", sports enthusiasts hoping to place bets and take advantage of generous signup bonuses will find 888Sport offering action on the UFC and welcoming its newest members with a 100% up to $250 bonus. With sports events beginning once again, the timing is perfect.