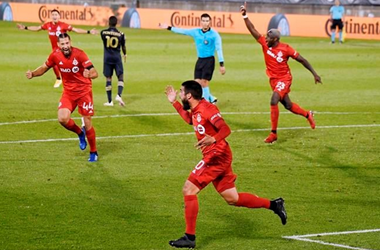 TFC's Ayo Akinola and Alejandro Pozuelo saved the day on Saturday to help Toronto come back from a 1-0 deficit against the Philadelphia Union. After watching the Union take a 1-0 lead in the first half, the first twelve minutes of the second half looked like it was going to be much of the same.
However, at the 57th minute of play, Ayo Akinola sent a header past Philadelphia Union goalkeeper Andre Blake after picked up a cross field pass from defender Tony Gallacher to tie up the game. With the clock ticking, the winning goal came 19 minutes later at the 76th minute after a TFC corner kick connected with Chris Mavinga whose header found an unprotected Alejandro Pozuelo to give Toronto a 2-1 lead.
Pozuelo, who was named the Player of the Month in September, has scored a goal in TFC's last four games and is on his way to making a case to the leagues MVP. The win was the third in a row for the Toronto FC and their second comeback in a week after rallying back from a one goal deficit to win 3-1 in their game against Columbus last Sunday.
Toronto will next head to B.C to play the Vancouver Whitecaps on Monday night before heading to Montreal to tackle on the Montreal Impact. This will be a prime opportunity for punters looking to hedge their bets in favour of Toronto. With sportsbooks such as Bodog offering a generous welcome bonus, and with the TFC heading to Vancouver on a three game winning streak, the odds are in their favour.
Major League Soccer
The win was not without a cost for Toronto as it saw both Justin Morrow and Jozy Altidore leaving the field with unspecified injuries. Saturday nights game was the second for Toronto, who now call Rentschler Field in East Hartford, Connecticut, home due to travel restrictions relating to the pandemic.
Toronto, who managed to control the ball almost 65% of the opening half watched at a header from Chris Mavinga inadvertently connected with a Union player who passed it to Sergio Santos at the fifth minute mark. Santos then outpaced TFC's Omar Gonzalez to chip one past goalkeeper Quentin Westberg putting the Union up by one.
Akinola tying goal was the benefit of two perfectly executed long passes from Marky Delgado and then Tony Gallacher. That saw Gallacher floating a perfect Crossfield pass to Akinola allowing him to fire off a header that bounced off the hand of goalkeeper Andre Blake.
After a successful rally to beat Columbus 3-1 on Sunday, Greg Vanney chose to make no changes to the opening lineup on Saturday. While it started out looking like it might have been a questionable call, the second half turned into what many consider TFC's best 45 minutes of play in recent memory.
The Union, who have only suffered a single loss this season were in form with the return of team captain Alejandro Bedoya. However, Philadelphia was unable to make any plays that stuck after going down 2-1 to put up any change for overtime. Toronto's Quentin Westberg was in perfect form most of the night and made multiple big saves including one that saw the goalkeeper flying the air to stop a long range from Jamiro Monteiro.