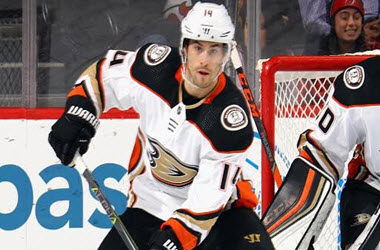 The Anaheim Ducks and Adam Henrique have agreed to a five-year extension on his contract worth $29.1 million. The extension was announced on Monday and will keep Henrique with the Ducks through to the 2023/2024 season. This deal ensures Henrique will avoid having to go through the process of free agency after this season.
During a conference call, Henrique said,
"That was a goal for me, just to get something done this summer if the team wanted to as well. I'm very happy we have it done now and can just focus on training and get ready for camp and the upcoming season."
The Canadian centre, born and raised in Brantford, Ontario, was initially drafted in 2008 by the New Jersey Devils. He was drafted to the Anaheim Ducks in 2017/2018 and scored twenty-four goals and earned twenty-six assists in eighty-one games last season.
For Henrique, it was about tradition stating,
"It was a seamless fit and I don't think you can overlook that. That was a big reason why I wanted to stay and why I was so comfortable."
At the age of 28, was one of Anaheim's top scorers with 8 game-winning goals, was tired for the second place top scorer for the franchise. He also had the second longest scoring streak for the Ducks last season.
As a young player in Canada, the star centre was a fan of the movie that the Anaheim Ducks took their name from, Disney's Mighty Ducks. He added that is one of his favourite movies while growing up and the Ducks were one of his favourite teams, and that makes the extension that much more special.
In other NHL News,
Ryan Pulock, a defenceman with the New York Islanders have agreed to a 2-year contract extension. The terms of the deal have not been released, only that the deal will keep the defencemen in New York until the 2020/2021 season.
Pulock, a Canadian that hails from Dauphin, Manitoba had his best season with New York last year earning thirty-two points in sixty-eight games. At the age of 23, he has played in eighty-four games in the NHL and was the Islanders second top scoring defencemen last season. In last year's Stanley Cup playoffs he earned two assists and scored one goal.
#Isles Transaction: The team has agreed to terms on a two-year deal with defenseman Ryan Pulock. Pulock set career numbers last season with 32 points (10 goals and 22 assists).

Details: https://t.co/3tVlglNOrx pic.twitter.com/Fn9HNuLPvG

— New York Islanders (@NYIslanders) July 17, 2018
While playing for the Bridgeport Sound Tigers, the Islanders American Hockey League team, he earned 100 points in 163 games and in his last season before being called up to the Islanders he earned 46 points and was selected to play in the AHL All-Star Classics. Pulock size is a contributing factor for his success standing at 6ft. He played in the Western Hockey League before being drafted by the New York Islanders. In all three seasons playing for the Brandon Wheat Kings, Pulock was chosen to play on the WHL First All-Star Team.
The Nashville Predators also announced they have re-signed Juuse Saros to a three-year contract for a reported $4.5 million. The goaltender will continue to be responsible for backing up Pekka Rinne. Last season Saros had a .925 save percentage and 2.44 average for goals against.
With the upcoming NHL season kicking off in September, sports bettors will be keen to begin compiling information on their favourite teams and players. Getting in your bets early will ensure you the best odds and potential payouts as the 2018/2019 season progresses. Why not check out our recomended hockey sports betting sites for Canadians. There are some excellent promotions for new punters looking forward to the upcoming NHL season, let alone favourable odds.