Blachowicz vs Teixeira Predictions, Odds & Betting Sites for UFC 267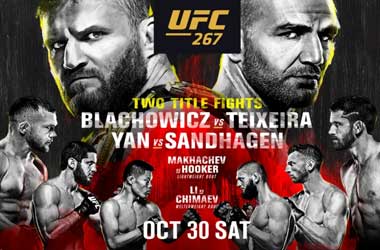 Once again, the UFC light heavyweight championship will be up for grabs on October 30th at the UFC returns to Abu Dhabi. The night will feature two title bouts, with the main event seeing Jan Blachowicz defending his title against Glover Teixeira. Also sharing the main card is a Bantamweight interim title bout that will see Petr Yan defending his belt Cory Sandhagen.
Blachowicz, who is 28-0 is coming off his biggest career win after defeating Israel Adesanya during UFC 259, is the heavy favourite to retain the light heavyweight championship. However, Teixeira has also been riding a wave of success and heads into the fight with five back-to-back wins. But at 41, he faces an uphill battle against Blachowicz.
Best Online Sportsbooks To Bet On UFC 267
The co-main event between Petr Yan and Cory Sandhagen is another that is gaining momentum. This is the second time the two will go at it in the octagon, with the first fueled by controversy that left fans angry and demanding a rematch. UFC 267 will also feature a Lightweight bout between Islam Makhachev and Dan Hooker and Li Jingliang and Khamzat Chimaev competing in a Heavyweight bout.
With only a week to go before the UFC rolls into Abu Dhabi, an overview of UFC 267 is provided below.
UFC – Ultimate Fighting Championship
UFC267 Fight Analysis
Odds have been provided by BetUS and are accurate as of 20/09/2021
Jan Blachowicz vs Glover Teixeira
Odds to win: Jan Blachowicz -285 / Glover Teixeira +215
After his win against Israel Adesanya at UFC 259, Jan Blachowicz enters the bout at the favourite, a welcome change over his previous three fights that had him as the underdog. While the underdog status may have been deserved since a career hiccup six years ago that saw the champ lose four fights, he has since gone on to win nine of his last ten.
That speaks volumes about Blachowicz's skill as a well-rounded fighter. This is a fighter that rarely puts himself in the line of danger and is fast to taking advantage of every opportunity against his opponents. Evidence of that is his overall record, with 17 of his 28 fights ending in stoppages, eight of which were knockouts. The reality is, Blachowicz is a smart fighter, and his strength and skills can do some serious damage to opponents unprepared.
On the flip side, Glover Teixeira is a skilled boxer who has amassed eighteen knockouts in his MMA career. The problem for Teixeira will be overcoming Blachowicz's kick-boxing skills and two-inch reach advantage. However, Teixeira is a smart fighter that knows when to push and when to conserve energy. He is also competent and can be dangerous, but the odds are against him overcoming the superior skills of Blachowicz.
Petr Yan vs Cory Sandhagen
Odds to win: Petr Yan -240 / Cory Sandhagen +190
Looking at the odds, many will disagree the bout between Yan and Sandhagen is too close to call in favor of one over the other. However, history plays an important role in this as Yan won the vacant UFC bantamweight title at UFC 251, but then while defending the title against Aljamain Sterling at UFC 259, he lost it after an illegal knee and was disqualified.
After a rematch was set for UFC 267 and Sterling out of commission, it opened the door for Cory Sandhagen. The No. 3 ranked Sandhagen is fresh off a loss to TJ Dillashaw has oddsmakers putting Yan as the slight favourite, but the fight between Sandhagen and Dillashaw was close and not a good basis to go by on his ability to win the Bantamweight title. Both Yan and Sandhagen have significant strike accuracy, so expect this one to be an entertaining fight to say the least.
Islam Makhachev vs Dan Hooker
Odds to win: Islam Makhachev -700 / Dan Hooker +450
With a win fresh under his belt last weekend against Nate Haqparast during UFC 266, Dan Hooker put an end to a two-bout losing streak. However, even though the former Australian Fighting lightweight champion Championship had gone seven for eight before losing to Michael Chandler and Dustin Poirier, he is still the favourite to win.
With a week between fights, and a 21-10 win/loss record, Hooker will face a tough opponent in Islam Makhachev. At 31, Makhachev is 20-1 and known for his strikes per minute and strike defence strategy. For Makhachev, he will need to on his game as Hooker is a fighter who has only been the underdog twice in his professional career, and Makhachev will have his hands full if he expects to take control early into the fight.
Li Jingliang vs Khamzat Chimaev
Odds to win: Li Jingliang +350 / Khamzat Chimaev -475
UFC 267 will be the first time Khamzat Chimaev will be entering the octagon since being sidelines with COVID-19 last year. Pre-covid, Chimaev, was 9-0 and undefeated in the welterweight division, and that has Li Jingliang heading into the bout as the underdog.
Jingliang's underdog status came as a surprise considering the Chinese mixed martial artist has won eight of his last ten fights, one of which included a knockout victory over Santiago Ponzinibbio. The problem for Jingliang is, the stats speak for themselves and pound for pound, Chimaev lands more strikes, has a superior striking accuracy, and for Jingliang, that is going to be tough to overcome.