Usman vs Burns Predictions, Odds & Betting Sites for UFC 258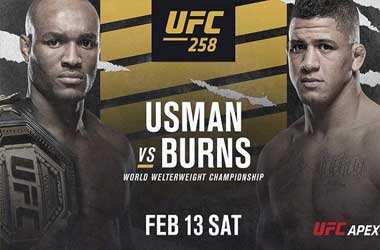 UFC 258 is set to take place in Las Vegas Nevada at the UFC Apex facility on February 13th. This will be the second pay-per-view event for the year and will feature powerhouse competitors like Kamaru Usman, Gilbert Burns, Maycee Barber, Kevin Gastelum and Ian Heinisch.
Kamaru Usman will be looking to score a victory and defend his title for the third time. This time it will involve fighting a former teammate from his past.
However, bookmakers aren't anticipating Burns to come out on top and are favouring Usman, with Burns being pegged as the underdog.
The first pay-per-view in 2021 witnessed Dustin Poirier and Conor McGregor battle each other for a second time. McGregor's fame and prowess saw millions purchase paying for the right to watch the action unfold, and many are expecting an increase in viewers for the right to see Usman battle against Gilbert Burns.
Best Online Sportsbooks To Bet On UFC 258
Usman is a true champion in the sport and is often under admired when you consider he has 16 back-to-back victories under his belt. For Burns, he is heading into the fight knowing he is up against a tougher, more skilled fighter and that will play on his mind, especially after an extended period of inactivity in the octagon.
Regardless of who wins the fight, the winner will earn the right to take on Israel Adesanya in a yet to be announced fight night. Until that is determined, the focus remains on Usman and Burns and their upcoming bout. For that reason, let's take a more in-depth look at each fighter, and determine who we think will win the bout.
AXIOM FILMS
UFC258 Fight Analysis
Odds have been provided by Bodog and are accurate as of 08/02/2021
Kamaru Usman vs Gilbert Burns
Odds to win: Kamaru Usman 1.357 / Gilbert Burns 3.20
The octagon battle between Kamaru Usman and Gilbert Burns will be intriguing for viewers, as the Nigerian Nightmare trained extensively at "Sanford MMA" with Gilbert before entering the Ultimate Fighting Championship. These two men have familiarity behind each other's fighting tactics, meaning their fight won't be exclusively physical but also mental. Both have proven themselves, incredible opponents, as Kamaru Usman has a sixteen-fight winning streak and Gilbert Burns hasn't lost any fights since returning to the welterweight division.
However, there are differences between these two men that could make the defining difference. For instance, Kamaru Usman hasn't lost a single fight since winning "Dana White's Ultimate Fighter" in 2015. There should've been moments that Usman lost to his opponent. However, judges have favoured Usman's continued reign, and it's allowed him to avoid a tarnished record for sixteen fights.
On the other hand, Burns hasn't had an exclusive fight in the welterweight division where it ended with a judge's decision. For Burns, that is good, but for Kamaru, he will need to be mindful that Burns is a tough opponent and one more than capable of knockouts and wins by submission, and those are ones that Kamaru Usman cannot say the same.
Our Prediction: Usman by decision.
Kevin Gastelum vs Ian Heinisch
Odds to win: Kevin Gastelum 1.476 / Ian Heinisch 2.70
Kevin Gastelum and Ian Heinisch are two in the Ultimate Fighting Championship that could lose their careers depending on the outcome of this octagon match. This is in part due to Gastelum and Heinisch having not won a fight since 2018. For Ian Heinisch, his excuse is related to taking a break from fighting for personal reasons.
Kevin Gastelum's namesake in the UFC is synonymous with Israel Adesanya, who he lost the Interim Middleweight Championship title to by decision. While that result was a close decision, it is expected that Ian Heinisch is to stand victorious over Kevin Gastelum, the former championship contender will need to be aggressive and hope to cause damage early in the first and second round.
However, since Gastelum has more technical experience in the octagon, bookmakers have ranked his odds to win at 1.476, while Ian Heinisch's is listed at 2.70, leading most to select Gastelum for victory. The bottom line, both are lucky even to be given the opportunity to fight at UFC 258.
Our Prediction: Gastelum by Submission.