UFC 254 Betting Odds & Predictions For Khabib vs. Gaethje Fight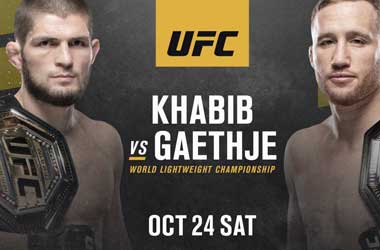 The UFC is gearing up for its last event in Abu Dhabi on Yas Island on Saturday afternoon, and its headliners are expected to put on a performance that will have fans of the Ultimate Fighting Championship on the edge of their seats.
The main event will feature Khabib Nurmagomedov taking on Justin Gaethje in a featured heavyweight bout. As most will have expected, Saturday's fight was set to feature two of the UFC's most recognizable names.
Nurmagomedov, AKA the "Eagle" is favoured to win against Gaethje, who while a talented martial arts fighter is the underdog.
Nurmagomedov has been at the top of his game during his most recent fights with wins against Dustin Poirier and Conor McGregor.
Known for having superior wrestling skills, the "Eagle" averaged over five takedowns for every 15 minutes in the octagon. Likewise, his endurance gives him a distinct advantage over Gaethje heading into Saturday's fight. This is going to be helpful while dealing with the heat conditions in Dubai.
However, while we favour Nurmagomedov for the win, Gaethje is seen as one of those fighters that has spent much of his career under the radar. This is partly due to the length of time spent in the World Series of Fighting. However, with a 17-0 win record, he is more than capable of putting together the right moves to earn the win.
Best Online Sportsbooks To Bet On UFC254
UFC – Ultimate Fighting Championship
UFC254 Fight Analysis
Odds have been provided by Sports Interaction and are accurate as of 23/10/2020
Khabib Nurmagomedov vs Justin Gaethje
Odds to win: Khabib Nurmagomedov 1.34 / Justin Gaethje 3.15
Khabib Nurmagomedov is considered one of the best mixed martial artists in the UFC, if not as one of all-time best. He has amassed an impressive 28 wins and zero losses, a record that is not shared by any other fighter in UFC history.
Saturday's fight is one of this years most anticipated so far in 2020, and it is expected that Nurmagomedov will succeed as he has with all previous professional fights. Considering he has said that when he gets to 30-0, he will retire, that means if he comes away victorious, he will only have one more fight to go before retirements.
However, while few expect Gaethje to prevail, he is no slouch and shouldn't be overlooked. The American is a Division-1 All-American, a high school wrestling champion and goes into the fight with a proven track record. Nurmagomedov will need to keep him at bay as he has a reputation for one punch knockouts. That will see Gaethje having to waste little time with is leg kicks if he wants to gain control of the fight. Yet, Nurmagomedov is skilled at maintaining control over fighter with formidable kicking capabilities, therefore, expect the fight to go three to four rounds but ultimately, we expect the result to be a win in favour of Khabib Nurmagomedov.
Our Prediction: Nurmagomedov for the win
Robert Whittaker vs Jared Cannonier
Odds to win: Robert Whittaker 1.91 / Jared Cannonier 1.83
The Whittaker/Cannonier bout is one of the harder ones to call and one that has bookmakers only slightly favours Cannonier over Whittaker. Cannonier is one of the few who has fought in multiple classes, including both light, middle and heavyweight. However, he is at his best when coming in at 185 lbs.
Yet, it is expected that Saturday night's fight will test his place in the division as Whittaker is a former champion and capable of walking away with the win. Ultimately, it will be a test for both fighters and will prove whether either is at an elite stage in the development of their UFC careers.
Cannonier is known for coming on strong early on in his fights and Whittaker will need to be mindful to avoid a repeat of his fight again Till. Yet, with his leg kicks and jabs, the former champion could do damage and weaken Cannonier's chances as the slight underdog.
Our Prediction: Robert Whittaker will prevail.