UFC 248 Betting Odds & Predictions For Adesanya vs. Romero Fight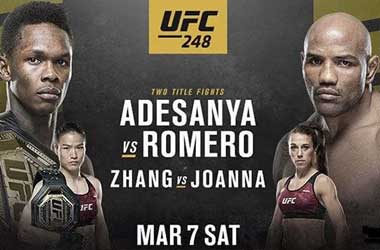 The UFC will once again make a stop at the T-Mobile Arena in Las Vegas on Saturday, March 7 at 10pm for UFC 248 and will feature Israel Adesanya vs. Yoel Romero in the main event.
Yoel Romero, who is a disguised fighter is hoping to regain some of his past glory, but at 42, the Cuban is approaching the end of his career, but it will be a high stakes night for both fighters as the winner will walk away with the UFC Middleweight title, one that Israel Adesanya already owns as an undefeated rising star.
While we will focus on the Adesanya vs. Romero fight, the main card will also feature several other notable fights. This includes Weili Zhang taking on Joanna Jedrzejczyk in a Women's Strawweight title bout, Beneil Dariush vs, Drakkar Klose in a Lightweight bout and Neil Magny vs. Li Jingliang in a Welterweight bout and Alex Oliveira vs. Max Griffin in the Welterweight division,
With that said, we will look closer at Israel Adesanya and Yoel Romero and see how the two fare against each other and predict if we think Israel Adesanya will retain his title or whether Yoel Romero will raise a championship belt once again.
Best Online Sportsbooks To Bet On UFC248
UFC – Ultimate Fighting Championship
UFC248 Fight Analysis
Odds have been provided by 888Sport and are accurate as of 25/02/2020
Israel Adesanya vs. Yoel Romero
Odds to win: Israel Adesanya 1.38 / Yoel Romero 3.05
When Israel Adesanya enters the cage on Saturday night, he will be defending his UFC Middleweight Championship title against the very skilled and adaptable Yoel Romero. Adesanya last fight in Australia this past October saw him earn a knockout victory over Robert Whittaker to win the title, and while undefeated, he will face a tough challenge against Romero, even with his unique fighting qualities and skills. Romero has a well-documented history in martial arts and has won gold and silver at the Olympics.
There are some who have questioned the validity of Romero being the chosen opponent. At the age of 42, his last three fights have all ended in losses, and he lacks what most would expect in a title bout challenger. However, this is a talented fighter and to suggest he will be an easy opponent to face for Adesanya is simply not true. He has the proven ability to be explosive in the cage and is one of the most decorated fighters in the MMA.
The problem for Romero is just how solid of an MMA fighter Israel Adesanya is, and many are just starting to realise it, a bit surprising considering he has won 80 out of 86 fights in his boxing/kickboxing career before joining the UFC. The reality is, he has continued winning since his first fight in the UFC and continues to dominate with wins over Robert Whittaker and Kelvin Gastelum, both of which speaks volumes about his talent. He is a master at striking, puts together combinations that seem effortless and has the ability to quickly make changes that are, at times, eye-popping.
The fact that Adesanya wanted Romero as his challenger speaks plenty about his mindset and not being intimidated by any challenger, regardless of past accomplishments. It is clear he wants to perform at the highest levels, and while Romero may not be equal to past victories against Whitaker, he is no slouch and could be the one to put a stop to Adesanya unblemished record.
Our Prediction: Israel Adesanya to win by decision
Zhang Weili Vs. Joanna Jedrzejczyk
Odds to win: Zhang Weili 1.57 / Joanna Jedrzejczyk 2.40
Zhang Weili and Joanna Jedrzejczyk join Saturday night as the co-main event, and with it, Weili will be defending her UFC Strawweight Champion title. It was only this past August when Weili shocked the mixed martial arts community by knocking out Jessica Andrade in 42 seconds to win the title.
However, Joanna Jedrzejczyk, Weili will be facing off against an opponent who won six title fights in three years. The only question is whether Jedrzejczyk is still up to the challenge and have it in her to dominate over Weili or fall to the same powerful kicks and shots that Jessica Andrade did.
Weili to date has racked up an impressive twenty victories in her MMA career and is no doubt a dangerous opponent but to not consider Jedrzejczyk has the ability to put a stop to her impressive run is simply not smart. This is a fighter who has amassed a staggering 70 fights in Muay-Thai and kickboxing and followed it with a very successful career in mixed martial arts. She also goes into the fight with a win over Michelle Waterson but will need to pull out all the stops if she hopes to take the belt away from Weili, but if she can force the fight to go beyond five rounds, the live betting odds will be stacked in her favour.
Our Prediction: Zhang Weili to win by TKO