UFC 241 Betting Odds & Predictions For Cormier vs. Miocic Fight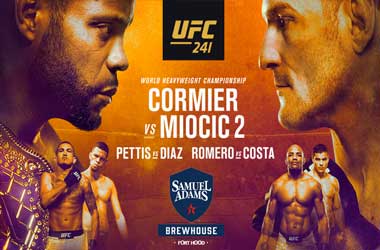 The UFC is heading to Anaheim, California on the 17th of August for UFC 241 and will feature the long awaited fight between Daniel Cormier and Stipe Miocic. Originally Cormier was scheduled to fight Brock Lesnar of the WWE, but after Lesnar opted to give up on the MMA, it was rescheduled to see Cormier, who is the defending heavyweight champion, square off against Miocic in what will be a rematch from UFC 226.
Currently, most bookmakers are heavily favouring Cormier over Miocic, and that is hard to disagree with when you look at the histories of each. That said, UFC 241 is shaping up to be one of the more exciting cards the UFC has posted in a while.
It includes Anthony Pettis going up against Nate Diaz, Yoel Romero against Paulo Costa, Gabriel Benitez against Sodiq Yusuff and Derek Brunson against Ian Heinisch. However, that is far from all that will have UFC fans in an uproar as there are seven other prelims before the main card, and that is sure to keep the hype for this event alive and strong.
However, for all intents and purposes let us focus our analytical energies on the Cormier vs Miocic.
Best Online Sportsbooks To Bet On UFC241
UFC – Ultimate Fighting Championship
UFC241 Fight Analysis
Daniel Cormier vs. Stipe Miocic
The fight on the 17th will be rematch for Cormier and Miocic and one where Cormier will be defending his title which he took last July from Stipe Miocic in his first fight as a heavy weight. The reality is, and one that is seeing him as the one to beat is he has not lost a fight since 2015 at UFC 182 to Jon Jones. The two had a rematch that also went in Jones favour in 2017 but that decision was overturned at a failed drug test by Jones.
Where Cormier becomes a threat is his style, which is a combination of wrestling and boxing, and considering he competed in the 2004 Olympics on the U.S. wrestling team and again as captain in 2008, his skills are cemented. Added to his strength as a heavyweight is the fact he has a powerful punch, far more than most expect given his size, and that ultimately, combined with his wrestling skills can throw off those that tend to be more aggressive.
This fight will be Miocic's first since last July at UFC 226. Leading up to that event, he had been building his resume with an impressive win ratio with six back-to-back wins of which three were defending his heavyweight title, that was until he came up against Cormier. His only other loss since going pro was to Stefan Struve but with five knockouts, four of which were first round knockouts, Stripe Miocic is anything but a serious contender. Still, he will have his job cut out for him and most are not anticipating it will end with Miocic retaking the coveted heavyweight title.
Our Prediction: Daniel Cormier to win by knockout, 1.57 with Sports Interaction