UFC 240 Betting Odds & Predictions For Holloway vs. Edgar Fight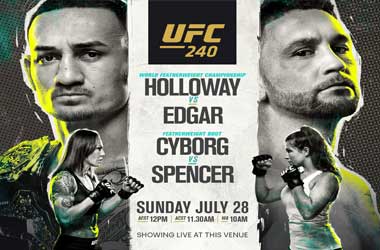 The UFC is returning to Canada on July 28th. Edmonton's Rogers Place will play host to this week's UFC Pay-Per-View event, and with a seating capacity of 18,500, it is expected to be a full house.
This main event will feature Max Holloway taking on Frankie Edgar for the UFC Featherweight title, and while the card is not filled with any really big names, make no mistake, the card is solid.
This includes Heavyweight's Shamil Abdurakhimov, Juan Adams and Junior Albini as well as Middleweight's Israel Adesanya and Omari Akhmedov.
Also joining the card is Jessica Aguilar and Alexandra Albu in the Women's Strawweight division and completing the lineup, Light Heavyweight Klidson Abreu, Featherweight Kevin Aguilar, Welterweight Rostam Akman and Bantamweight Iuri Alcantara.
The big draw is beyond a doubt the UFC Featherweight title fight between Max Holloway and Frankie Edgar, so let's take a look at how the two compare.
Best Online Sportsbooks To Bet On UFC240
UFC – Ultimate Fighting Championship
UFC240 Fight Analysis
Max Holloway vs. Frankie Edgar
This is a fight that has been in the making for a long time. It was initially slated for December 2017 at UFC218 but was cancelled due to Frankie Edgar sustaining an injury. The UFC tried to re-schedule it for this past March, but that saw Max Holloway pulling out, leaving Edgar to fight Brian Ortega. That did not end well for Edgar after Ortega knocked him out.
While Edgar was able to recover from that loss and earn a win over Cub Swanson, it clearly put Holloway ahead as the top contender for the Featherweight title. The clash is expected to be interesting as Holloway is in top shape and after losing to McGregor in 2013, hasn't lost a fight since. He has racked up an impressive thirteen victories, with some of those were against some big names like Jose Aldo, Brian Ortega, Jeremy Stephens and Anthony Pettis.
When pitting the two against each, it doesn't take much to see that Holloway is the front runner. He has a record of twenty wins, four losses, has had ten knockouts, two submissions and eight were by decision. Edgar has twenty-three wins, six losses, seven by knockout, four by submission and twelve by decision. However, while Holloway has a better fight to fight record, the two stand almost equal in size, reach and weight.
The one inch reach advantage for Holloway may seem like nothing, but Holloway is known for throwing long punches and kicks, and when in the cage, that extra inch will count. There is little doubt that it will be one that Edgar will need to combat by getting inside and trying to do damage, but it will be no easy task. Add into the equation that Holloway has generated a reputation for forcing the fight to move at a rapid pace, Edgar will have his hands full.
Our Prediction: Max Holloway to win – 370