Fury vs Wallin Boxing Prediction & Odds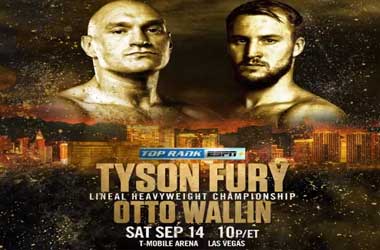 T-Mobile Arena will play host to another epic night of fighting on Saturday night in Las Vegas, and the card is stacked with heavyweight Tyson Fury taking on WBO Inter-Continental heavyweight Otto Wallin.
Fury, who is 28-0-1 is the clear favourite to win and was wise with his choice to choose Wallin as his next opponent in the ring while he continues negotiating for a Deontay Wilder rematch.
Since Fury returned in June, he had two warm up fights, one against Sefer Seferi and the other against Francesco Pianeta.
He also entered the ring and destroyed the relative unknown Tom Schwarz before moving on to Wallin, also an unknown, but it is clearly meant to prepare Fury for a rematch against Deontay Wilder. What is clear is that Wallin, who is 20-0, is the underdog and has been in his three previous fights. One of those was against Adrian Granat last in August of this year where he scored a unanimous-decision win.
Best Online Sportsbooks To Bet On The Fury vs Wallin Fight
While to onlookers it may appear this fight will be anything but a warm-up, it is a good opportunity for Wallin, who come from behind and score a win. This is no slouch of a fighter, and while less experienced than Fury, and oddsmakers not favouring him, Fury will need to stay sharp and not let his guard down.
Top Rank Boxing
Pound for Pound Analysis
* Odds have been provided by 888sport and are accurate as of 09/09/2019
Tyson Fury
Odds to win: 1.04
At 31, Fury is well-known in boxing circles, and there is little doubt he is the front runner to win either by knockout or by decision against Wallin with few expecting this bout to end in a draw as the Fury vs Wilder did. Fury made quick work of Tom Schwarz in his last bout in what was a brutal second round knockout and that only strengthened his popularity.
This will also be his second fight with Top Rank Boxing and fifth time defending the lineal title. At 6ft, 9 inches, Fury possess an 85 inch reach and has amassed an impressive record with 28 wins, zero losses. His best known fight and the one he is known for was in 2015 when he defeated Wladimir Klitschko. It was one that gave saw him being considered one of the sports more charismatic fighters. Pound for pound, Fury will make his mark felt on Wallin, and it could spell disaster for the Swede.
Otto Wallin
Odds to win: 11.00
Otto Wallin is hoping to put an end to the rematch between Fury and Deontay Wilder and a victory will do exactly that. At 28, Wallin is dreaming big and plans to make this opportunity one that ends in his favour, especially against an opponent that is favoured to win, a win will put Wallin in the spotlight.
Those who have written this contender off are making a mistake, he is a force to reckon with and stands over 6 and at half feet tall, and while he is at a reach disadvantage, he is a southpaw and that will throw loops into how Fury defends against him. Wallin's first fight was in April against Nick Kisner in Atlantic City. That fight resulted in a no-contest decision after the two butted heads and Kisner suffered a nasty cut. Yet, Wallin and a perfect record of 20-0, has racked up thirteen knockouts and might just shock those putting their money behind Fury.
Our Prediction: Fury to win
While we like Wallin, the facts are the facts and that has us putting our money behind Fury. This seems to us, as it does many a stacked fight that seems like it is designed as more of a workout that an actual battle in the ring. Bottom line, Fury is one of the best heavyweights in the sport today and an upset is unlikely.