Toronto Raptors @ Portland Trail Blazers Game Odds and Predictions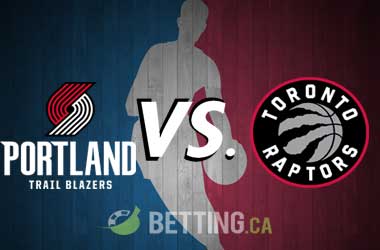 The visiting Portland Trail Blazers are hoping to maintain the momentum when they arrive at the Air Canada Center on Wednesday after a successful outing against the Atlanta Hawks on Sunday, but with Toronto coming off a win over the L.A Lakers and ex-teammate Kawhi Leonard, Portland may have their jobs cut out for them.
The Raptors are in second place of the Eastern Conference and are knocking on the door of the Celtics for first place, whereas the Trail Blazers are in 10th in the Western Conference and continue to struggle. If there were a bright spot to be found with the Trail Blazers, it is somewhat difficult to found having only won one game in their last five.
While both teams are set to play on Tuesday with NBA action seeing Portland facing off against the Sacramento Kings and the Raptors playing the Los Angeles Clippers and with that said, let's take a closer look at each and see who we think will win on Wednesday.
Best Online Sportsbook for Raptors @ Blazers
NBA: Toronto Raptors vs Portland Trail Blazers – What to Expect and Watch for
The Toronto Raptors, after winning the NBA Finals last year and subsequently watching their best player jump ship and head to the Lakers are once again playing strong, and without Leonard in the fold. The win over the Lakers extended the Raptors win streak on the road to 2-1 and with Fred VanVleet Kyle Lowry and Chris Boucher all being instrumental this season, they are the trio to watch.
The Trail Blazers, as we mentioned have had a rough start this season and continue to struggle and if not for Damian Lillard in the lineup to carry the team, the season could be a lot worse. While they do have a few others that work hard to contribute, it seems bringing it together where they win games remains a battle.
* Odds have been provided by Sports Interaction and are accurate as of 13/11/2019
Toronto Raptors
Odds to Win: 2.22
The beginning of the season may have started well for the Raptors and won their first six games. The fact they lost Kawhi Leonard hurt, but they have proven themselves full of talent across the board and continue to sit near the top of the Eastern Conference. That, for oddsmakers, is a clear indication that Leonard moving on wasn't as significant as many thought it would be, especially after Toronto downed the Lakers 113-104 on Sunday, a payback if you will.
Pascal Siakam continues to be a major contributor to the team and scored 24 point in Sunday's game and is increasing his role offensively. He is averaging just shy of 28 points a game and is 51.9% with his shooting and over 40% from behind the arc and that gives the Raptors a solid offensive weapon and the knowledge that he continues to grow at a player.
Also playing a starring role is Kyle Lowry, no surprise there as he has proven to be a reliable and solid contributor averaging 21.8 points per game, is approaching 50% from the floor and is stats from behind the arc are equally impressive coming in at 42.6%. As long as the Raptors are solid in their defense against Portland, the odds are in their favour to extend their on-road win streak.
Portland Trail Blazers
Odds to Win: 1.67
The season is not looking bright so far for Portland, who after suffering four straight losses. This is especially troubling when factoring in the combination of Damian Lillard, Hassan Whiteside and Kent Bazemore, a trio that many consider one of the best. Yet they still seem unable to win games, and that includes losing their first three games at home.
The shining star is the continued improvement from point guard Damian Lillard who is their strongest asset, yet it takes more that one to bring a team inline and in position to win. However, Portland's woes extend to their lack of defense, which is an area that will be key if they are to regain momentum and hope to earn a playoff spot.
Our Verdict: Toronto Raptors to Win
The odds, at least in our humble opinion, are clearly in favour of the Toronto Raptors. They continue to push forward and make their presence known, both at home and on the road and beyond they failing defensively, our money is on Toronto to take the win.