Pacquiao vs Thurman Boxing Prediction & Odds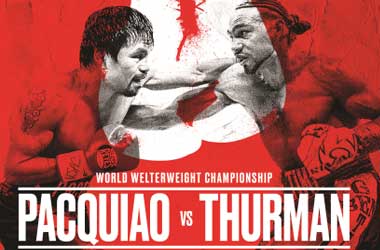 The boxing world is gearing up for another Saturday night main event that will pit Manny Pacquiao against Keith Thurman for the WBA Welterweight Championship.
The MGM Grand Garden Arena will play host to the PPV fight, a site that has seen many memorable matches over the years.
For Pacquiao, this will undoubtedly be his most important fight since Floyd Mayweather, and for Thurman, he will be defending his reign as the Welterweight World Champion. Pacquiao, age 40, is a legend in boxing and comes into Saturday's fight with a 61-7-2 career record.
The younger Thurman, age 31 and the current Welterweight World Champion, is undefeated and sports a 29-0-1 record. He has seemed to have lost some of his momentum since returning to the ring after sustaining car accident-related injuries and appeared somewhat out of shape in his January fight against Josesito Lopez.
What is clear is both Pacquiao and Thurman have something to prove, if not to the boxing world, then for themselves. There is little doubt that Pacquiao is a favourite to win, but counting out Thurman and his tenacity could prove costly for bettors.
Best Online Sportsbooks To Bet On The Pacquiao vs Thurman Fight
Motivedia – Boxing
Pound for Pound Analysis
Manny Pacquiao
Manny Pacquiao took a year off from boxing in 2012 after being knocked out by Juan Manuel Marquez and appeared to be done with the sport only to return in 2015 to take on Floyd Mayweather. It was a fight few thought he could win and he didn't, but the paycheck was what many felt was his motivator. Since his fight against Mayweather, Pacquiao fought Timothy Bradley before retiring from the sport only to return seven months later to take on Jeff Horn. What has been clear is both those he has fought since Mayweather have not been worthy opponents, and his bout with Thurman will be his first real challenge in over two years.
There is no doubt that Pacquiao is past his prime, and is known for being an aggressive and at times, violent fighter. However, it seems of late that those instincts are waning as he ages. It is not often you find a boxer transcending into politics as Pacquiao has (he is a senator in the Philippines), and even more so, it is not often to see one get in the ring. Pound for pound, Pacquiao is the front runner even if he has lost some support due in recent years.
Keith Thurman
Keith Thurman, while the current Welterweight World Champion, is no longer considered no. 1 in the Welterweight division, even with his record of being undefeated. With challengers such as Terence Crawford and Errol Spence, the last number of years have been challenging for Thurman. He took a year off while in his prime, returned to fight Shawn Porter, only to take another year off before fighting Danny Garcia, both of whom he defeated.
His last fight was two years ago when he faced off against Josesito Lopez, who very nearly put an end to Thurman's undefeated record. That was in part due to Thurman being sluggish and now sitting in the no. 3 spot, if he goes into the fight on Saturday in the same way he did against, Lopez, it could end badly for him, especially considering Pacquiao is one not known to be merciful in the ring.
Our Prediction: Pacquiao to win