Predicted Winner, Latest Odds For MLB All-Star Game 2019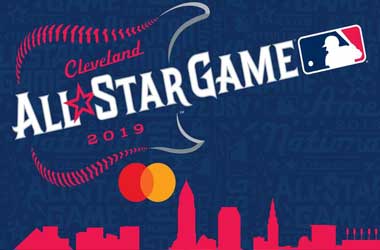 The 2019 MLB All-Star Game is set to take place in Cleveland, Ohio on Tuesday at 7:30 p.m. The MLB All-Star game has a long-standing tradition of rivalry between the American and National league that began 90 years ago.
Few may realize the steeped history that began in 1933 when the Chicago White Reds hosted the first All-Star game. What is rather interesting is that when looking at all previous All-Star Games, both the American and National league have won 44 times, and with one year seeing the game end in a tie.
Currently, the American League, who won last year's All-Star Game 8-6, are on a six year winning streak and it is anticipated this will continue this year.
They have dominated over the National League in the last 22 years having won all but three, not including the tie in 2002. That success has been in part due to standout players such as Mike Trout, Alex Bregman, Francisco Lindor and Mookie Betts, each of whom are returning for another appearance this year.
Bet On MLB All Star Game 2019 With Top Sportbooks
MLB
The National League is hoping to bring an end to that winning streak and will be bringing back Javier Báez, Nolan Arenado, Bryce Harper and Christian Yelich to its lineup for another appearance. Their performance on the last 22 years has seen them only win three times, and even with a lineup of powerful players, many of whom have hit twenty plus home runs this season, the National League is coming in as the underdogs.
Taking the helm as coach for the American League will be Alex Cora. He will be joined by Terry Francona, Tim Hyer, Andy Barkett, Craig Bjornson, Tom Goodwin, Carlos Febles, Dana LeVangie, Ramon Vázquez and Ron Roenicke.
As for the National Team, Dave Roberts will make a return appearance as head coach. Roberts will be joined by Brant Brown, Bob Geren, Dino Ebel, Rick Honeycutt, Mark Prior, George Lombard and Robert Van Scoyo.
Prediction who will win: American League
Odds to Win: American League +165 | National League – 190
MLB All Star Game Roster
American League
1B: Matt Olson
Olsen will take the helm of first base and there is little doubt that this was a good decision for Alex Cora to make as he is one of the best in the AL currently.
C: Adley Rutschman
Rutschman was a bit of a surprise considering he is still in college, but he was chosen first the Orioles in this years draft. He is expected to be one to go far in the MLB and a solid addition to the roster.
2B: Nick Madrigal
Nick Madrigal is a solid second baseman and is another up and coming player and top prospect for the White Sox. Drafted fourth overall in 2018, he currently is with the White Sox minor team.
3B: Vladimir Guerrero Jr.
Guerrero takes up third base and is solid at bat racking up 56 hits and 20 home runs so far this season. This is a talent well worth watching, especially as his talent grows in the coming seasons ahead.
SS: Francisco Lindor
Short Stop Francisco Lindor is a rising star with the Cleveland Indians. A right hand thrower, he is skilled at the plate having racked up 84 hits earning him 14 home runs and an average .296 batting average.
OF: Mike Trout
Trout is one of the best on this year's AL roster, solid in the center field, he is an all-round player with 28 home runs, 67 RBI's and a .301 average this season
OF: Eloy Jiménez
Jiménez has been compared to the legend Babe Ruth by teammates, so it is no surprise to see him joining this year's All-Star lineup for the American league. While he may only have 16 home runs under his belt this season, his development is one to watch as the White Sox have him optioned until 2026.
OF: Mookie Betts
Mookie Betts in the right field is the right choice to make for Alex Cora. Solid in the outfield, he has .272 average this season with 13 home runs and 40 RBI's. A definite threat to the National Leagues chances.
SP: Forrest Whitley
Forrest Whitley is a top pitching prospect in the minors with the Astro's organization. He has a 12/21 ERA in five starts and eight games and is one to watch.
DH: Alex Bregman
Bregman takes on the designated hitter role once again for the AL. The man can hit and has, this season, 23 home runs and 56 RBI's. When he gets the call, the results are often not in favour of the opposing team.
National League
C: Joey Bart
Joey Bart is a top prospect and one of the best up and coming catchers in the minors. He currently plays with the San Francisco Giants minor team and is solid at the plate as well with 31 hits, 6 homeruns and 21 RBI's to date this season.
2B: Javier Báez
Second baseman Javier Baez, at 26, is fast, agile and defensively skilled. At 26 and six seasons in the majors, he is one the AL need to watch as this man knows how to bring in the runners as evident by his 62 RBI's this season.
1B: Pete Alonso
First baseman Pete Alonso is one that could make a difference for the National League this year. He has substantial talent, not only as a first basement but overall as his stats speak for themselves. He has amassed 30 home runs and batted in 68 runners – not bad in his first season in the majors.
SS: Fernando Tatis Jr.
Tatis Jr is in his first full year in the majors and is making a name for himself. At 20, he has .327 average, 14 home runs and 33 RBI's. Solid as a short stop, he is expected to become a major presence in the MLB.
OF: Bryce Harper
Harper plays with the Philadelphia Phillies and is another strong hitter at the plate having earned 16 home runs and 62 RBI's. He is consistent year after year and has amassed over 1000 hits, 200 home runs and 583 RBI's in his six years in the big leagues
3B: Nolan Arenado
Arenado has six years in the MLB and sports a .312 average, 20 home runs and 63 RBI's. That makes him a powerful additional to the NL roster, and make no mistake about it, he is one to keep an eye on.
OF: Christian Yelich
Yelich is one of the top players in the league and really has come into his own over the last year and a half. He has a career average of .300, and at 6ft, 3 has recorded 470 career RBI's and 126 home runs in five years.
DH: Manny Machado
The name speaks for itself, Machado as designated hitter could spell trouble for the AL. This is a guy who knows how to hit and with 195 home runs and 571 RBIs in his 7 year major league career, there is little doubt he will play an important part if the NL is successful in winning this year.
OF: Ronald Acuña Jr.
Ronald Acuña Jr. debuted in the majors last season and has already seen his contract with the Atlanta Braves extended. He is one to watch, and at 21, expected to have a long career in the majors after already amassing 21 homers and 53 RBI's this season.
SP: German Márquez
German Márquez is considered one of the league's best pitchers. At 24, this has recorded career ERA average of 4.45 and will be the NL's starting pitcher.